Best Mountain Bike Trails in Melbourne
9 November, 2020
Discover Melbourne's Best Places To Mountain Bike
If you are just starting your mountain biking adventures, then you are lucky that Melbourne has a wide variety of MTB trails to tease both the beginner and experienced MTB riders alike. 
There are three well known park style destinations, plus a wide variety of smaller adventures to be had as well when looking for the best mountain bike trails available. Read on to discover our favourite mountain bike trails in Melbourne.
Lysterfield Park
Distance from CBD - 45km
Recommended Trail - Dog Pound
Trail Map - https://www.lysterfieldmtb.com/maps
Out to the east of town Lysterfield Park skyrocketed to fame as the Melbourne Commonwealth Games MTB venue, and not always for the right reasons. That was many moons ago and since then any amount of work has been done to transform this outer suburban bush block into an MTB Trail Mecca.
Mountain Bike trails are groomed and signposted, with a mix of single track and access roads. Ups and downs tend to be short, which is ideal if you are still finding your stride, and wildlife (especially kangaroos) abounds. There is nothing horribly technical, and most bike tracks have B lines for the faint of heart. 
In addition, there is a café, bike shop for last minute essentials, BBQs and toilets, plus a lake, so it is a good family destination. Do be aware that some tracks are one way, and some are multi use, so be ready on the brakes and take care passing Mum, Dad and the kids who are on foot. Find more information at Lysterfield District Trial Riders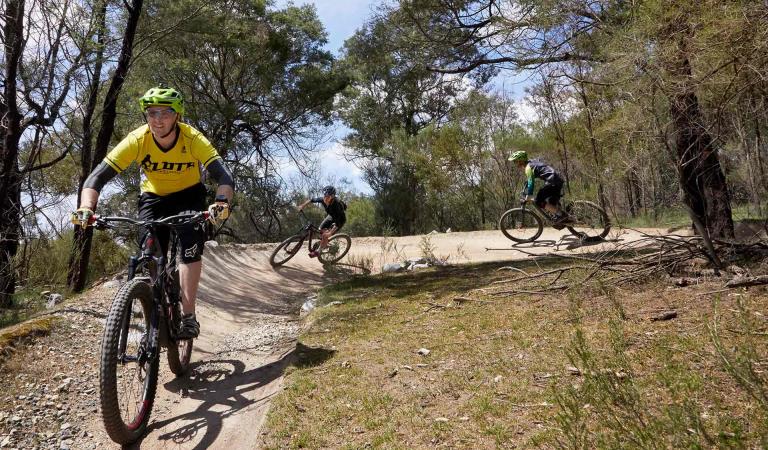 Photo: parks.vic.gov.au
Woodend
Distance from CBD - 68km
Recommended Trail - New Wombat Loop
Trail Map - http://woodendcycles.com.au/project/trails/
To Melbourne's north lies Woodend, and the Wombat State Forest. This has over 100km of mountain bike trails, and is home to various races each year, including the World Single Speed Championships in October. It is accessible via a little bit of road riding from the Woodend Station, as well as by car. Be warned there are no facilities upon arrival, so take your own food, water and toilet paper. Woodend itself is a charming town with cafes, bakery and brewery pub for post ride recovery, and makes a good base camp especially if staying overnight.
The pick of the trails for a beginner would be the Wombat Track, a splendid 20km (ish) single track loop that is clearly signposted and not too steep or technical. Cars can be parked at the start, and as well as the trail there are plenty of side loops for the brave and bold. Be aware the area's geology means that it is a more than muddy destination in wet weather, so be prepared for this if you must ride in damp conditions. Find more information at - Wombat MTB.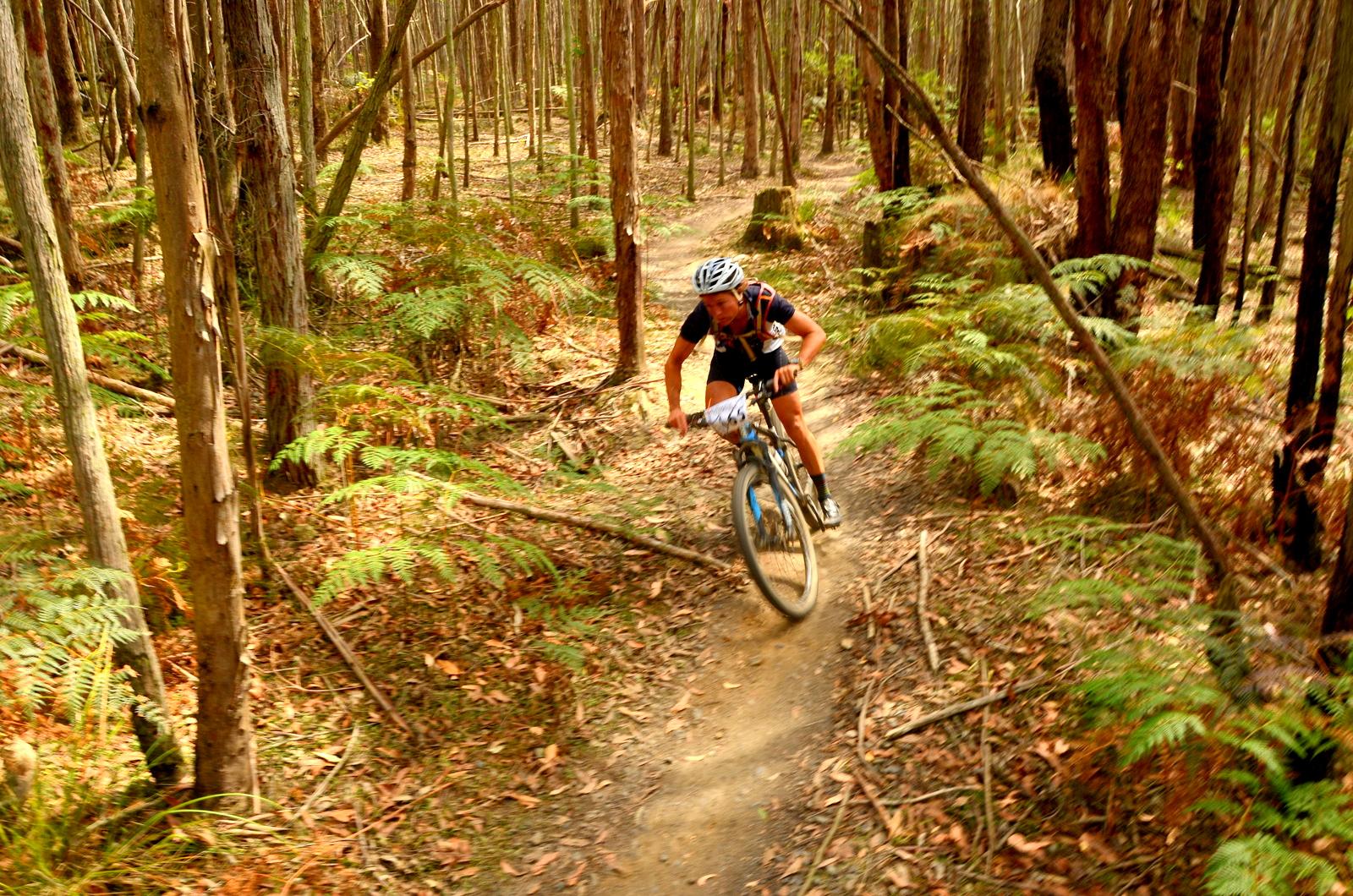 Photo: Singletracks.com
You Yangs
Distance from CBD - 72km
Recommended Trail - Trilogy
Trail Map - https://www.youyangsmtbinc.com.au/trails/
Look west from a Melbourne skyscraper and you will see the You Yangs, on the way to Geelong. This regional park is administered by Parks Victoria, and had well over 50km of mountain bike trails from flat wanders through the forest to downhill boulder fests suitable only for those with much suspension, much body armor and much absence of fear. The mountain bike trails here are graded like ski runs, and don't always have B lines, so to keep yourself and other riders safe only choose trails rated to your ability.
Green runs, as can be imagined, are technically simple and good for beginners. Blue runs take a little more skill and fitness, and some of the climbs at the "Youies" will certainly let you know you are alive. Black runs are for skilled and confident mountain bike riders, and if you do venture down one don't be frightened to stop, (remove your bike from the track to not block other riders), and scout the trail obstacles, even watch someone else ride them.
The rock gardens can be tricky, and the drawback of You Yangs is that the harsh granite is most unforgiving. Despite this the mountain bike trails are beautifully made and a joy to ride, so don't be put off and just ride what you feel comfortable with.
There are also downhill races held on the double black runs, and it is an exciting diversion to watch some of the nutters who ride in these events seemingly shrug off the laws of physics as they make their way down the hill on trails and at speeds that would leave mortals having a small toilet break inside the confines of their trousers. Well worth an afternoon if you have the time.
The You Yangs has toilets and car parking in a couple of spots. More information on You Yangs MTB trails can be found at You Yangs MTB Inc.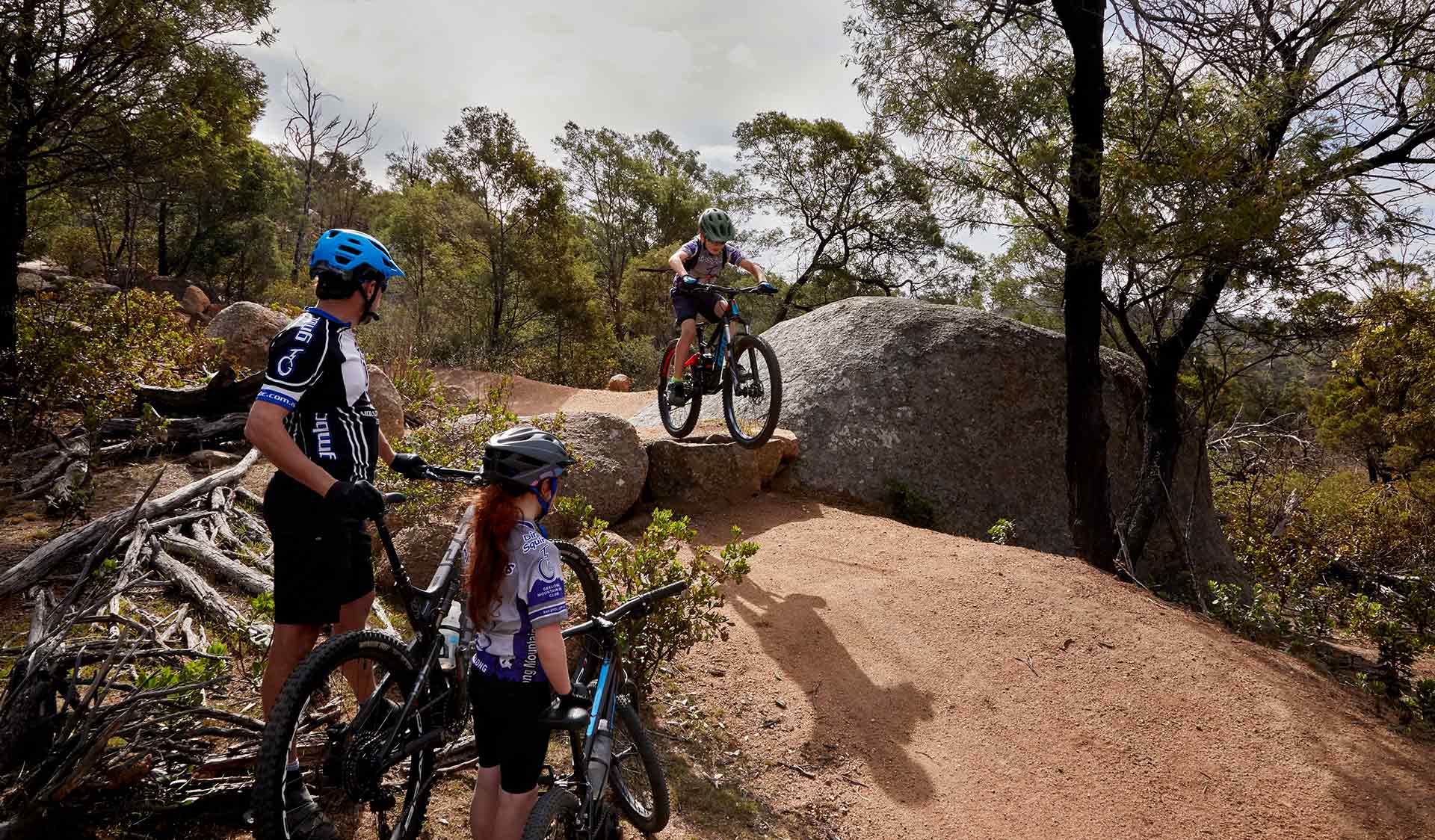 Photo: parks.vic.gov.au
More MTB Trails near Melbourne
There are any number of smaller destinations in Melbourne as well, not always documented and signposted, which provides wondrous opportunities to explore and experience new terrain. A selection of these include Melbourne MTB trails include:
Sections of the Yarra Trail from Dights Falls upstream to Westerfolds Park and beyond have single track carved off the side to reward the inquisitive.
The Dandenongs and Silvan Dam have a network of mountain bike trails which are generally technically simple, but can involve serious climbing, due to the Dandenongs being steep hills.
Smith's Gully and Plenty Gorge north of town have trail networks tucked into bush enclaves surrounded by suburbia, are far less groomed and can also be lung busters. Maybe not beginners terrain, but fun for when you have a little confidence and want to experience something less sanitised.
The Mornington Peninsula has a growing network of MTB trails & tracks thanks to the local club, as well as a wide selection of beaches, cafes, cellar doors and mazes, making a great opportunity for a day out.
Westgate Park has a short series of mountain bike trails almost in the heart of Melbourne CBD.
More information can be found on these areas to MTB in Melbourne with cunning use of an internet, local bike shops, or MTB clubs - but don't always expect maps, car parks and toilets. Hidden gems are the sharp end of adventuring and can be a fine reason to ride. They require a little more thought and preparation, but will also reward with new and unexpected riding experiences making the best mountain bike trails in Melbourne.
Ready to hit the trails of Melbourne? First you're gonna need an epic, adventure-ready mountain bike. You can check out our range of MTBs online or head into your nearest Reid store.
These are a few areas to explore, but there are tracks and routes all over the city, and with a mountain bike and a little skill you will soon be finding you notice new tracks in all sorts of places. Just be prepared, be inquisitive, and go ride. Now put down the computer, pick up a bike and hit the MTB trails in and around Melbourne.
If you're ready for adventure check out even more MTB Trails around Australia.