This category of bikes is really hard to pin down. You can buy pretty much the same style of bike and it could be called a City, Urban, Hybrid, Sport, Leisure, Fitness or Commuter bike. No wonder you're reading this buying guide…

Names aside, this category of bike is made to be comfortable, durable, reliable, sure-handling and versatile. It's the one bike to do all things for most riders.

There are a few distinctions you should be aware of when shopping for this style of bike. These will be important depending on the type of riding you are mostly planning to do, and the type of rider you are.
Styles of Hybrid Commuter Bikes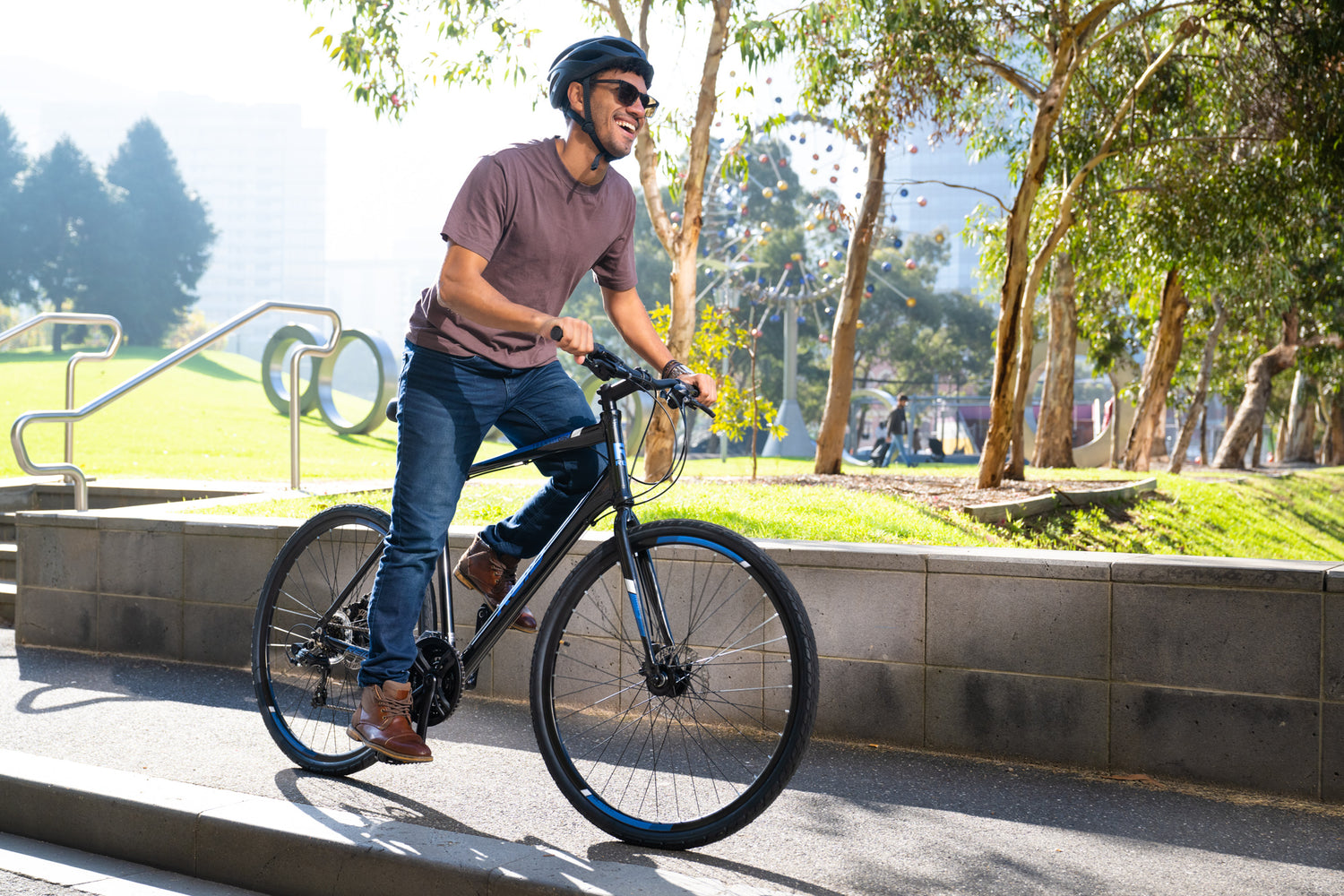 Mountain Bike Style
The MTB-style Hybrid bike is characterised by flat handlebars, a strong frame, 700c wheels with wider tyres, powerful brakes and a wide range of gears.

MTB-style Hybrid bikes also feature a more upright riding position which helps with visibility and is easier on your body when ridden every day.

The stronger frame on this setup comes in handy for larger riders or those who load up with additional weight in their panniers. It also means that if you plan to use the bike on weekends riding rail-trails or forest paths, you are ready to go.

For bikes of this style, shop our Transit range (if you are more into comfort) or our Urban range (if you like more speed).
Shop Commuter Bikes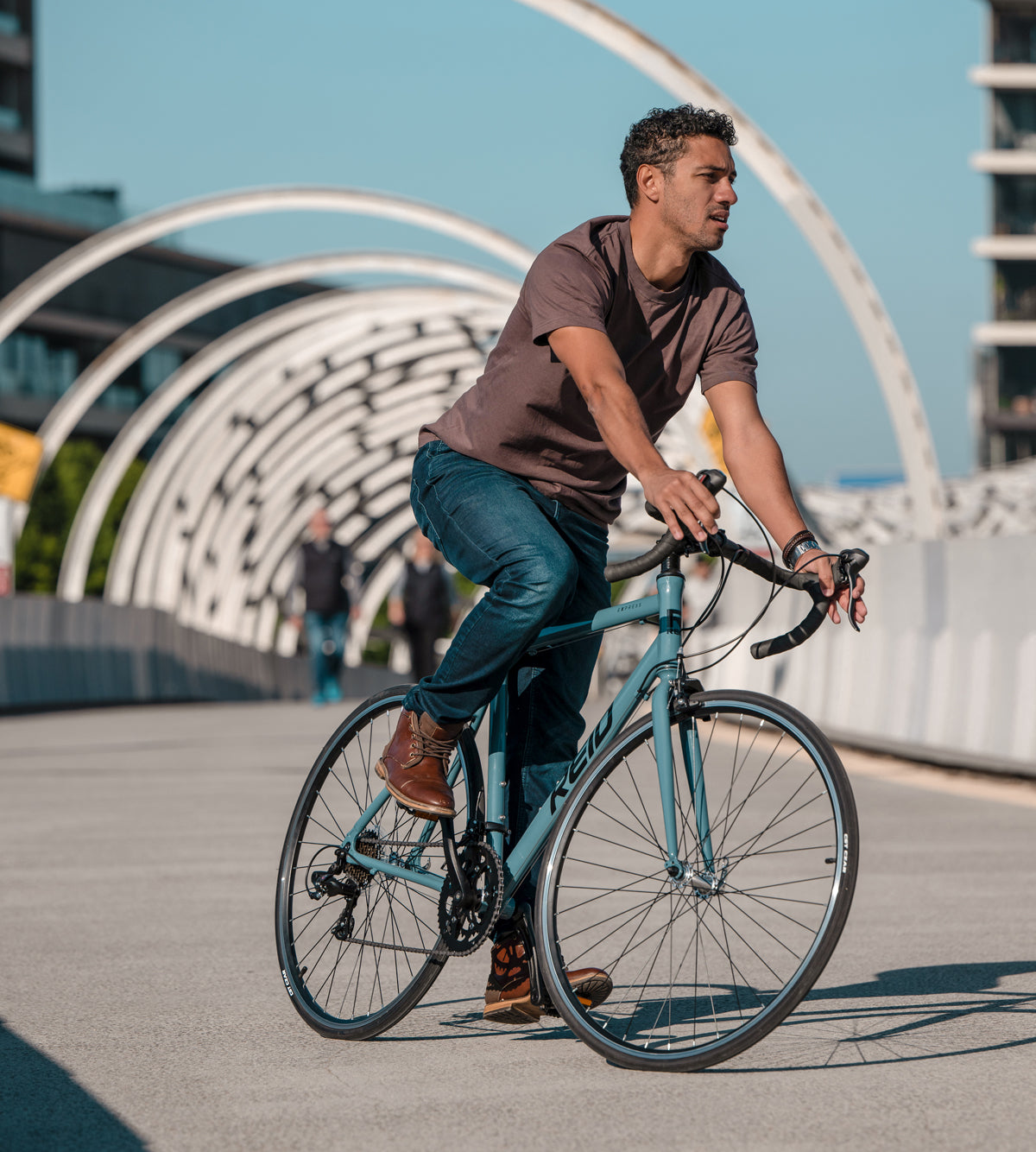 Road Bike Style
The Road Bike style Hybrid commuter may have flat handlebars or drop bars, but will usually feature 700c wheels with narrower tyres (23c - 32c). As a reference, 700c is the same diameter as a 29er MTB rim. This larger wheel size tends to roll over bumps and obstacles more smoothly (less rolling resistance) which means you roll faster and require less effort to maintain this higher speed. For this reason, 700c is the typical choice for faster commuting and touring bikes.

The geometry on this type of Hybrid bike is more aggressive, which facilitates more power through the pedals but can take some getting used to if you ride every day. The lighter, thinner, stiffer frame may also transfer more road buzz through to the rider which is not as comfortable (but handles better at speed). Many Hybrid bikes of this style feature a carbon fork to offset this harshness in ride quality and reduce weight even further for a faster ride.

Our Osprey Flatbar and Rapid Flatbar and Express Road are good examples of this type of bike. Simply add a pannier rack and mudguards and hit the road!
Shop Commuter Bikes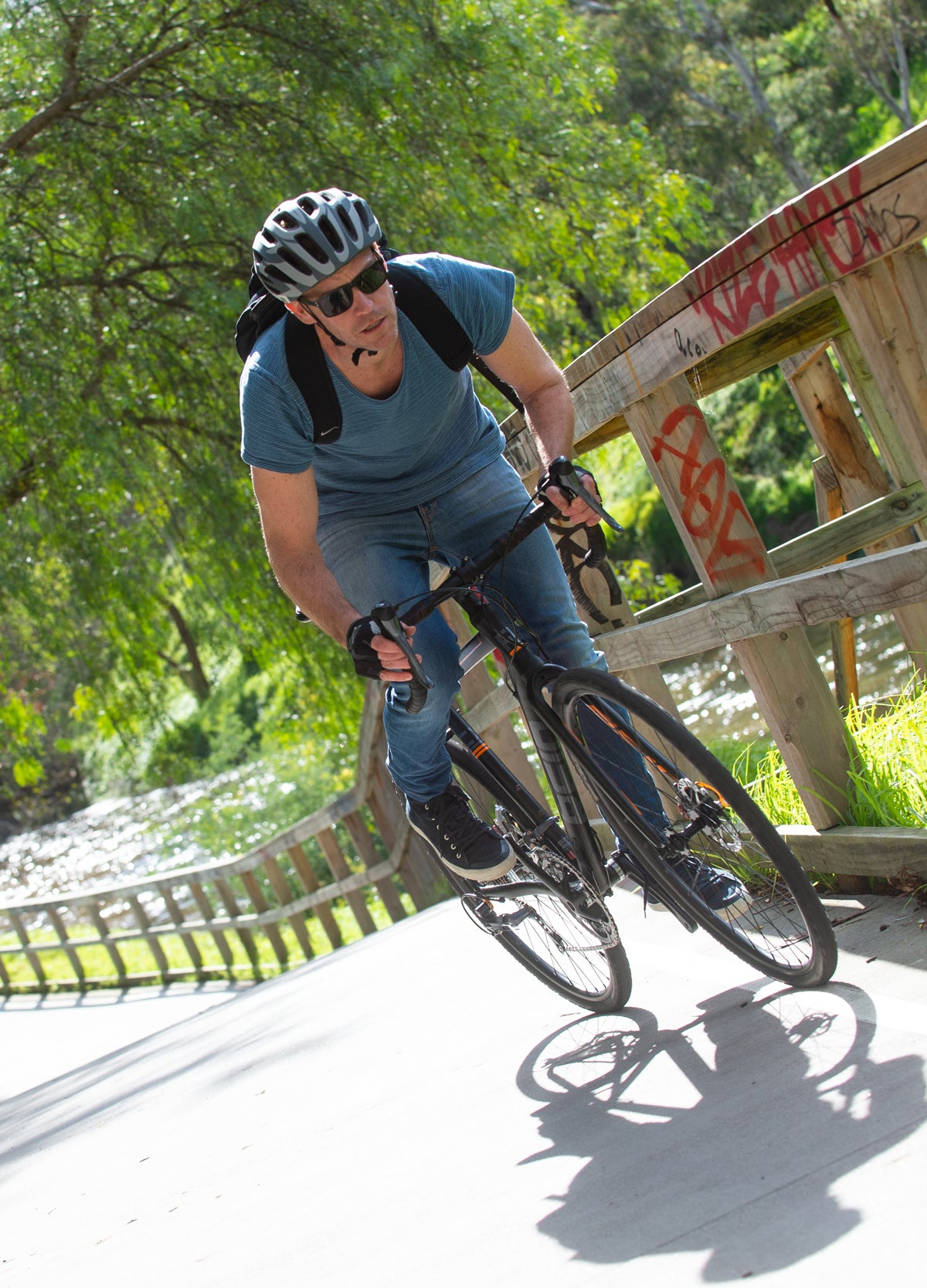 Gravel Bikes for Commuting
Thanks to the booming interest around Cyclocross and Gravel racing, the key characteristics for the perfect commuter bike have been honed into a new class of machine – fast, tough, nimble and comfortable on rough roads. Welcome to All-Road / Gravel Grinder / Cyclocross bikes! Although these new bikes have a racing pedigree, they manage to strike a balance that makes them perfect all-conditions all-round commuters for most regular riders that also open up all sorts of options on the weekend (including racing).

Larger tyres for comfort, powerful disc brakes for control, lower bottom bracket for agility, strong and light frame for durability and speed. Check out this exciting new breed of bikes here.
Shop Gravel Bikes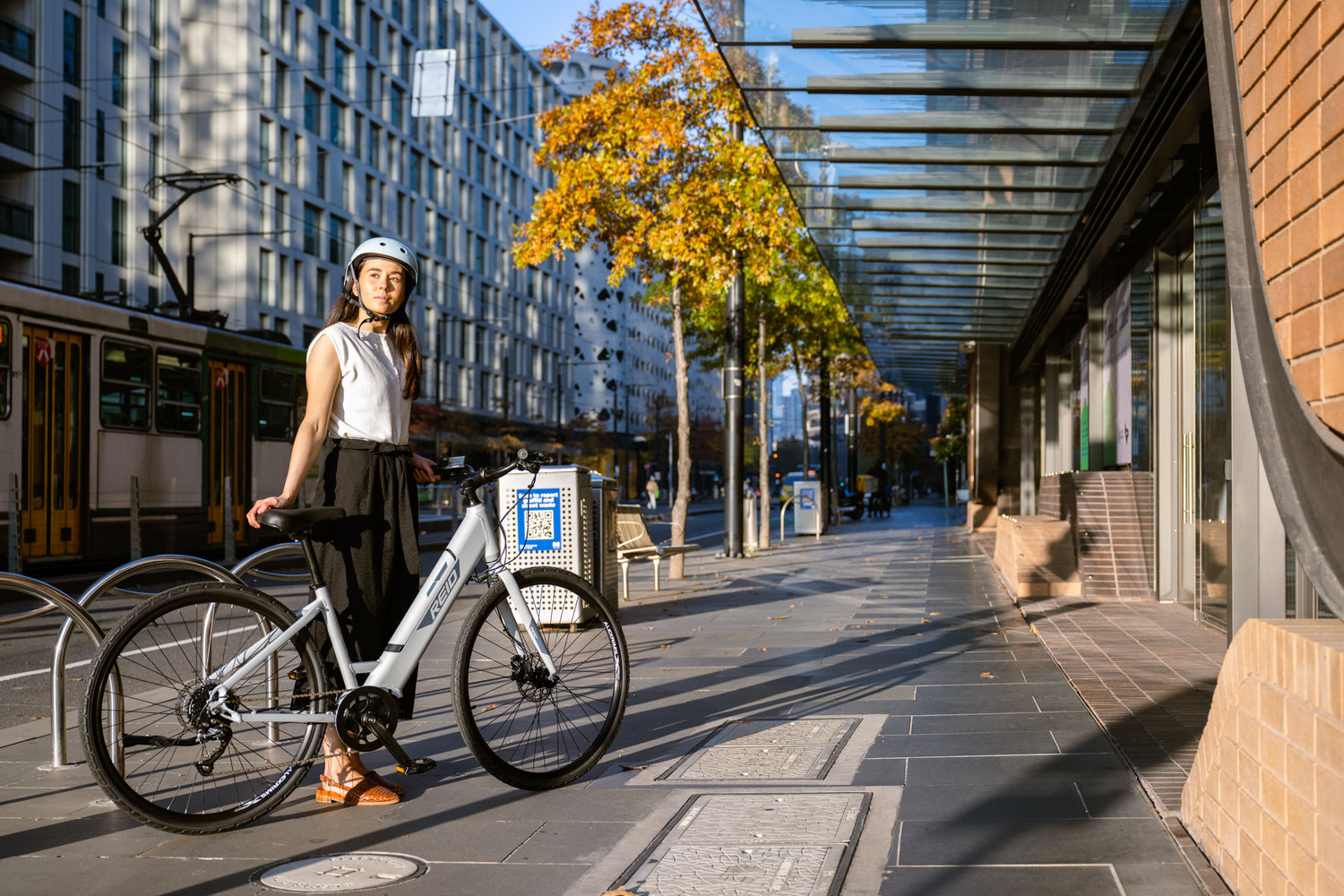 Electric Commuter Bikes
Ride further with less effort on an eBike. Technology has advanced to the point where these electric bikes are an easy and affordable way to get around your city each day.

With all the comfort and versatility of a regular bike, but with an electric motor and battery pack to get you there – electric bikes are a booming category that will continue to grow. You can now get on a quality eBike for just over $1,000 too which can be paid off in no time with petrol/transport savings.
Shop Electric Commuter Bikes
Gears
Gearing varies with the intended purpose of commuter bikes. Looking at the crankset in particular, most commuter bikes come with either double or triple chainrings. Double chainrings are ideal for rapidly changing across the range of gears, such as dropping to a low gear to climb a hill. Double cranksets are great for faster endurance riding and mixed terrain.

Going with triple chainrings gives you even more range, with plenty of low-end gears. This is fantastic for more diverse commuting, touring or hill-climbing, especially with a loaded bike.
Brakes
If you can afford to step up to Hydarulic Disc brakes on a commuter bike - do it. No other platform offers a superior mix of power, fine control and all-conditions reliability. These are all characteristics that will pay in the long run, especially if you ride regularly and keep going even in the wet. Mechanical Disc brakes are also a good option and will perform well in adverse conditions.

If you're trying to save money though you should look for 'dual pivot caliper brakes' or 'v-brakes'. These modern styles of brake are far more reliable, powerful and safe than traditional caliper brakes, while still being very easy to maintain and adjust. The 'dual pivot caliper brakes' are often found on road bike style commuters, but 'v-brakes' can also found on high quality commuter bikes intended for regular use. V-brake technology trickles down from mountain biking, where braking power is critical, so they're a great option. With these brake styles though you will need to keep an eye on your pad wear and be ready to compensate for reduced performance in the wet/mud.
Key Accessories
No matter which wheel size and frame style you're looking at, commuters really benefit from a few key accessories such as pannier racks, mudguards and kickstands. All of our commuter oriented bikes feature rear rack mounts. This means that there's a threaded lug at the top and the bottom of the chainstay that allows you to easily install a rear rack. A rear rack can be used to mount a pannier bag, basket or box.

Our Hybrid bikes also include mounts for mudguards which make riding in the rain (or when there's water left on the road) much more comfortable and fun. When cycling in the rain, most of the water comes up from the ground rather than falling from the sky! Mudguards cut this out. They also keep mud and gunk from splashing into your chain and gears, keeping everything cleaner.

If you're building up a Commuter bike, don't forget to add lights, lock and pump to ensure your bike stays where you left it and you then get home safely.
For all new bikes we offer a free first service, lifetime warranty on frame and forks and 2 years warranty on parts.

If you'd like some more information, contact Customer Support or come into one of our stores for a warm welcome, friendly advice and a free test ride.