Mountain Bikes (also known as MTB) are tough, capable bikes built to perform over all kinds of terrain. You can ride one of these rigs in the city and sealed roads, but the real benefits come through when you hit the dirt.

Any decent MTB will let you have fun hitting bush singletrack, purpose built off-road trails, paths and gravel roads. Once you start to push the limits into any of these environments though, you should pay attention to your equipment choices as the bikes become a bit more specialised.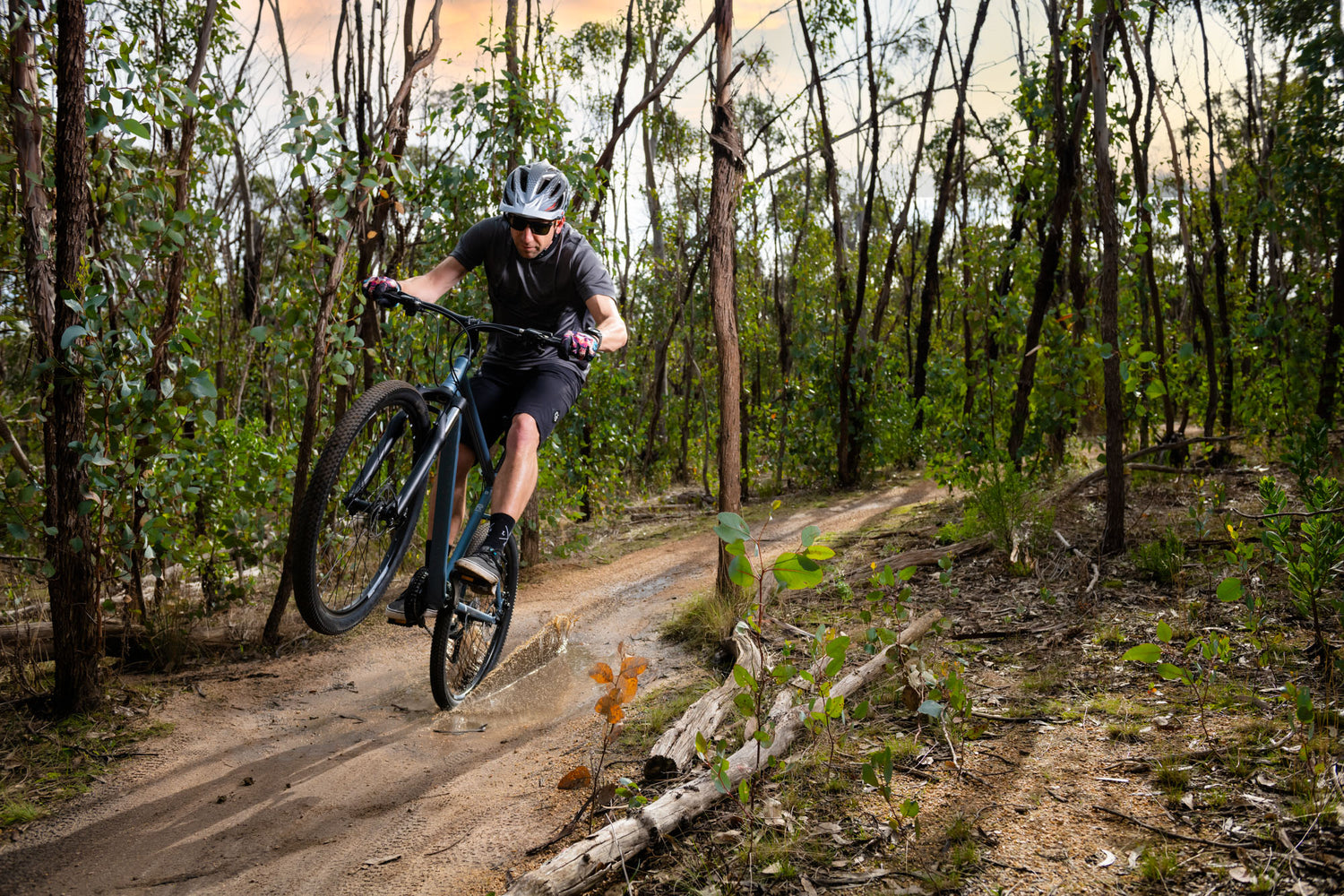 MTB Basics
The common characteristics of a Mountain Bike include wide knobby tyres, wide and tough rims to fit these, a strong frame, durable gears, riser handlebars and powerful brakes. Most MTB also feature a front suspension fork, which will soak up the bumps and keep the front wheel on the ground for comfort and control when speeding over variable terrain. This style of bike is called a hardtail (because it has front suspension, but a rigid rear frame).

Mountain Bikes are also available with dual suspension, having a suspension fork and a rear shock. This style of mountain bike is most appropriate to more technical downhill riding or more serious trails. For most riders though, a hardtail provides all the suspension you'll need at a much more reasonable price. Hardtails are also generally more efficient and better at climbing.

The main things to look at with a Mountain Bike are the frame size, wheels and tyres, gears, brakes, suspension fork and the key accessories.

But first, do you want to get an electric motor to help you get up those hills..?
Electric Vs Regular Mountain Bikes
Electric Mountain Bikes (eMTB) have gained popularity in recent years, offering a unique twist to the traditional mountain biking experience. Let's compare the pros and cons of electric mountain bikes with regular mountain bikes.

Pros of Electric Mountain Bikes

Pedal Easier: Electric mountain bikes provide an electric motor that assists riders in pedalling, making uphill climbs and long distances more manageable and less strenuous.
Ride Further: With the assistance of an electric motor, e-bikes offer an extended range allowing riders to explore more trails in a given amount of time without worrying about exhaustion.
Accessibility: eMTB enable riders of varying fitness levels to enjoy mountain biking, as the motor assistance allows individuals with less physical strength or endurance to tackle challenging trails.
Downsides of Electric Mountain Bikes:
Weight and Handling: E-bikes are generally heavier due to the additional motor and battery, which can affect the bike's manoeuvrability and handling. This issue is becoming less of a concern as motors and batteries become lighter and less obtrusive.
Cost: Electric mountain bikes tend to be more expensive than regular mountain bikes due to the added technology and components, making them less accessible to budget-conscious riders.
Reduced Physical Workout: While most riders love the assistance provided by the motor, some Mountain Bikers prefer the challenge of conquering a trail under their own steam. We have found that if you can get all your friends on an Electric Mountain Bike though then this issue tends to fade.
Ultimately, the choice between an electric mountain bike and a regular mountain bike depends on personal preferences, fitness levels, terrain preferences, and budget.

Contact one of our stores if you'd like to arrange a test ride.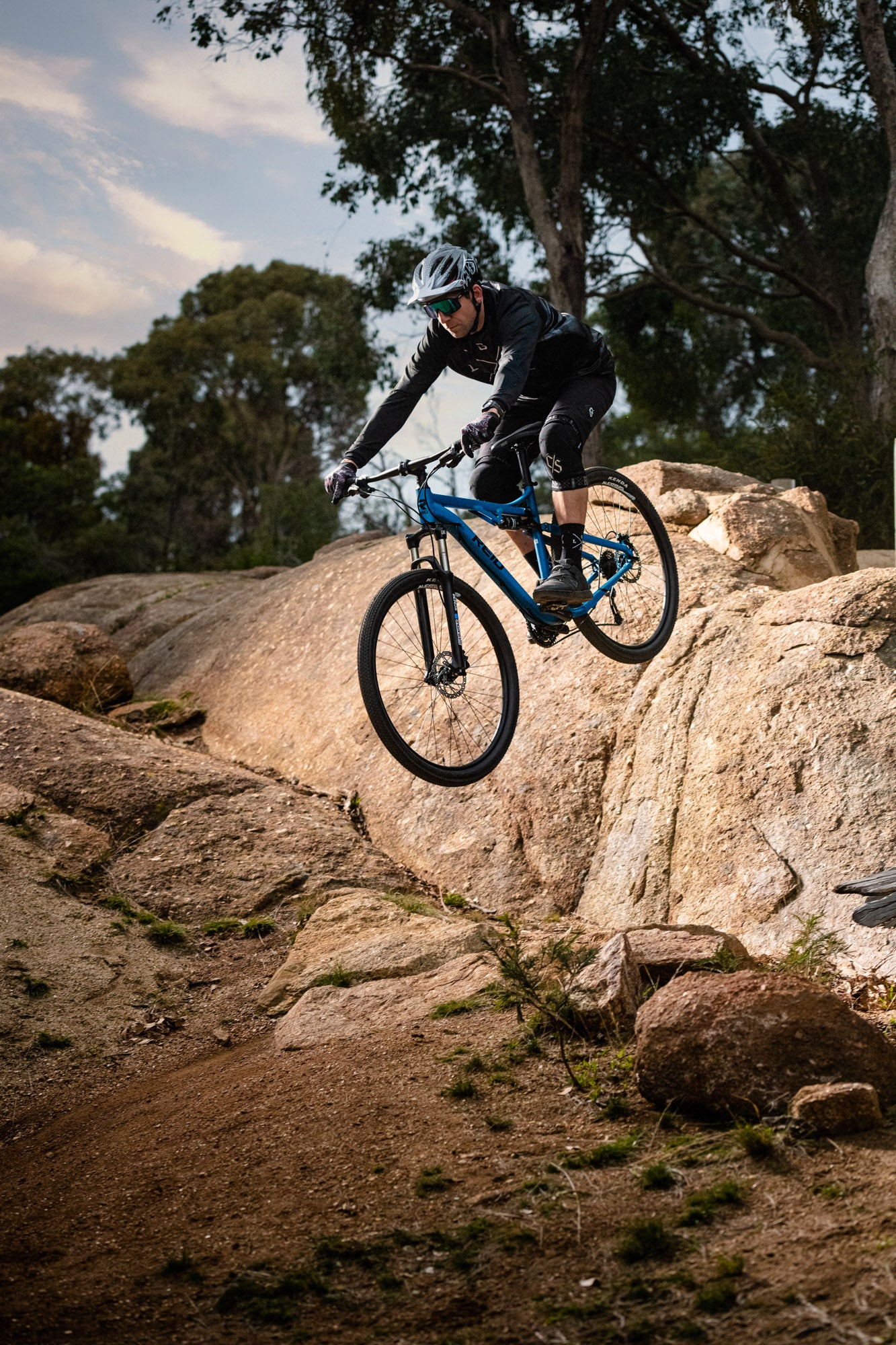 Frame Sizing
Sizing is important for all bikes, but especially for Mountain Bikes and road bikes that you'll be pedalling under increased pressure as you climb hills or whip through technical descents.

We provide a size guide for each model of mountain bike, but if you're on the border of two sizes, think about the type of riding you might be doing. If it's more technical, with manoeuvrability being the highest priority, going to a smaller size may suit you. For more cross-country riding, a larger frame that allows you to stretch out and really put the power down might be the best option.
Wheel Sizes
Until recently, mountain bikes used to run 26" wheels as standard (this measure is the approximate diameter of the wheel and tyre). This smaller wheel size offers good manoeuvrability and acceleration, but the standard is becoming harder to come by now as the market has largely moved on to larger sizes.

27.5" wheels (aka 650B) were very popular for a time and may still be found on some Mountain Bikes (especially for shorter riders or on Plus or Fat bikes). To give much of the rollover capability of a 29er with the agility of a 26er was the aim of this standard.

The industry has since largely moved into the 29" standard however, and the vast majority of new MTBs come in this wheel size. The rider consensus being any manoeuvrability concerns were trumped by the ability to roll over obstacles more easily which in turn gives better control plus added flowing speed on singletrack.

This wheel size, called 29" or 29er, is actually the same diameter as the 700c wheels used on road bikes, but the rims are wider to suit bigger tyres. All our higher end Mountain Bikes are 29ers (excluding Fat and Plus bikes).

Tyre choice can make a big difference in ride quality depending on the terrain and conditions (muddy V hard packed). Our Mountain Bikes all feature an intermediate tread pattern good for diverse terrain. Larger, more widely spaced knobs specifically suit wet and muddy conditions; while smaller, more closely spaced knobs are suited to hard-packed dirt, shale and gravel.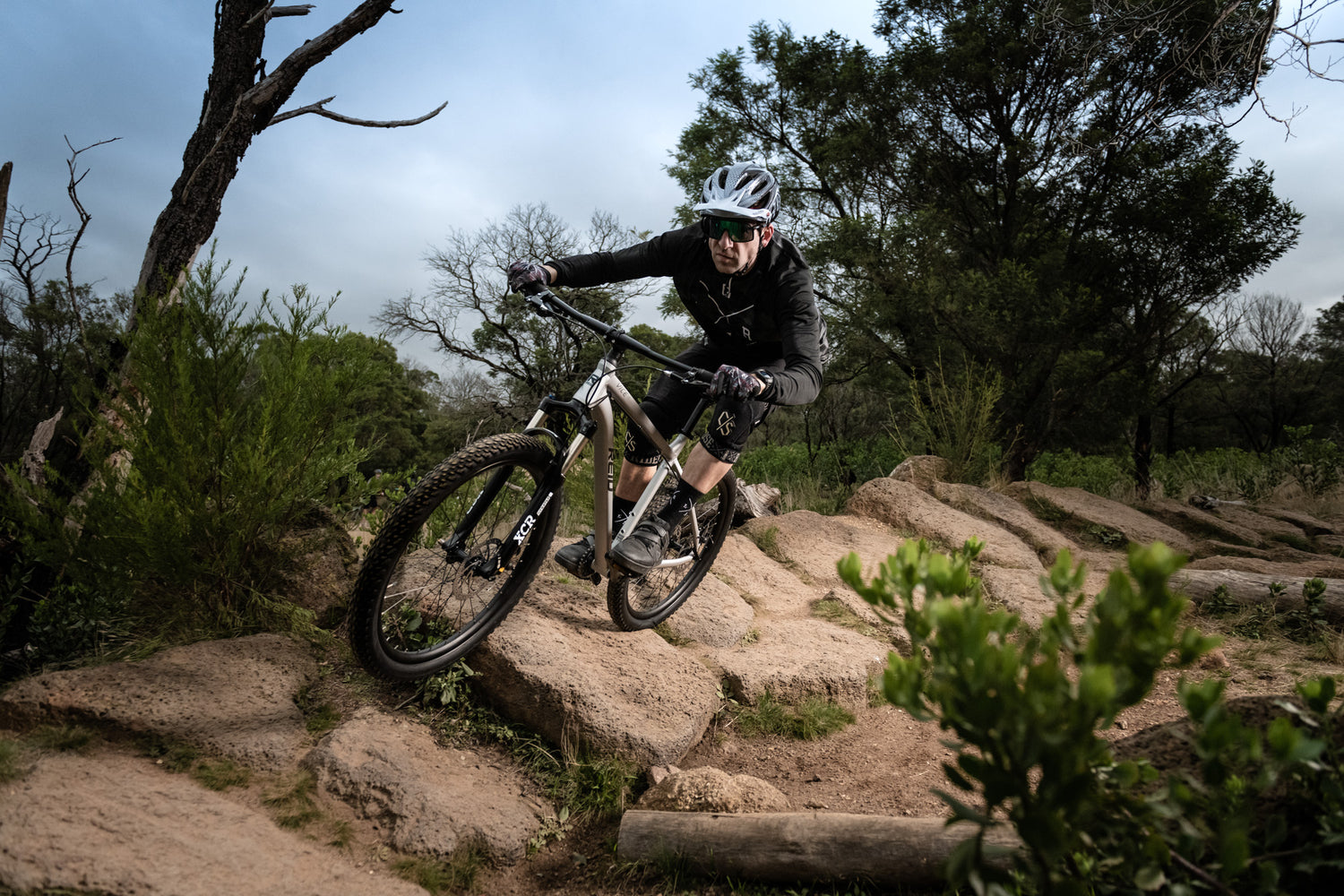 Fat & Plus Bikes
Fat bikes run huge tyres (our range are fitted with 4") on big rims. All this rubber equals ridiculous amounts of traction to allow riding on new terrain including soft, unstable ground like snow, sand and gloopy mud. These bikes are heaps of fun but you do lose some rolling speed and feel. Most fat bike riders are too busy blasting over new ground to really give a damn though.

Is there a way to get the best of all worlds - good speed, climbing ability, crazy amounts of traction and a nimble feel on the trails? The answer is the Plus, or 'mid-fat' bike. This format remains popular with beginner-intermediate riders who want to push the limits on more technical trails and singletrack. Check out our Vice range if this appeals. These are fun bikes that push the rider to go faster and brake less.
Shop Fat / Plus Bikes
Gearing Guide
Mountain Bikes usually feature a wide range of gears to suit the varied terrain they traverse. Cranksets on the more entry-level all-rounder bikes feature a crankset with triple chainrings, giving an ultra-low range to suit hill climbing, a medium range for flat areas and then a high range for fast descents.

More specialized Mountain Bikes built for singletrack and trails riding feature a single (or sometimes double) chainring up front. This is also known as 1x gearing and the benefits are significant for this type of riding. You can clear obstacles without bashing your chainrings, and there is one fewer lever to worry about when focusing on the ground ahead. They are also lighter and have fewer moving parts (so there is less to go wrong when out in the bush).

On the rear, you'll find 7 to 10 gears. This is called a cluster of sprockets. A 7-speed cluster, combined with the triple chainrings gives 21-gears, an 8-speed gives 24-gears and so on.

Shimano gearing is very common on Mountain Bikes as they provide amazing bang for buck and trusted reliability.

Entry level MTBs usually come with Shimano Tourney gears, which are reliable and hard wearing. Going up from there, you have Shimano Altus, then Shimano Acera gears. Higher levels of bike will come with Deore LX, Shimano SLX or Deore XT groupsets, which are lighter, with even more gears and more range.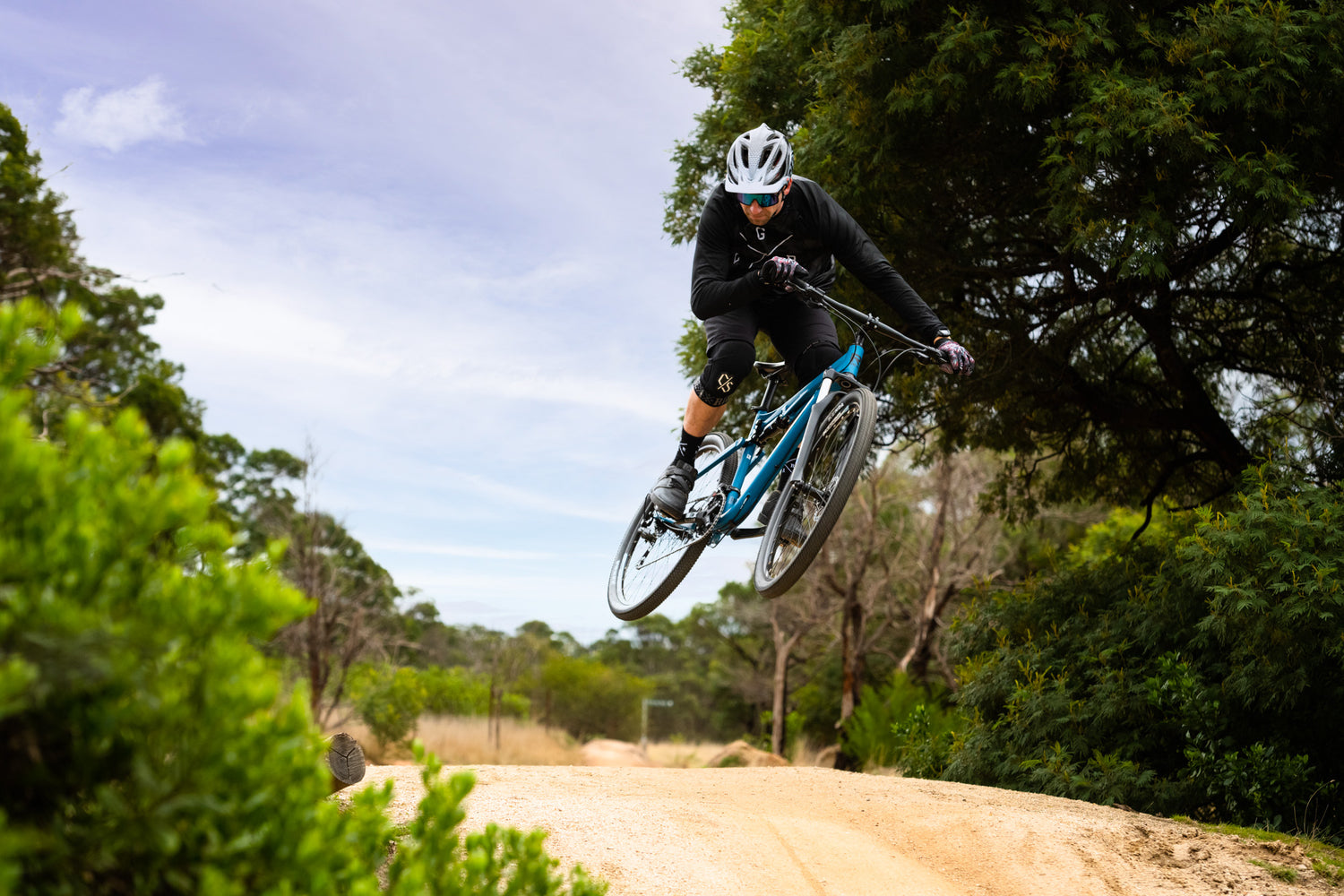 Brake Choices
Brakes are a critical choice on a Mountain Bike. You want the most power and control your budget will allow for, especially as your riding level improves and you start asking more of the bike. When just getting started, V-brakes will be fine. MTB V-brakes are usually specced for good stopping power and will give you reliable performance for getting out and about.

As you start hitting singletrack and pushing your bike a bit harder though, you will start to value the benefits of disc brakes. Disc brakes are more expensive, but they do provide amazing stopping power even when wet and muddy or full of dirt, plus they give you much finer modulation and control (especially hydraulic disc brakes). Disc brakes also require less frequent maintenance.
Shop Mountain Bikes
Suspension
Suspension forks are a great addition to an off-road bike and will soak up the bumps and keep the front wheel in contact with the ground for better comfort and control (traction is key!).

A measurement of 'travel' shows how much the fork can compress. A bigger, longer travel fork will soak up bigger bumps which is great on a downhill bike, but at the cost of reducing efficiency and added weight which is not so great on a cross-country racing bike.

A serious downhill racing machine might have 140 millimetres of travel or more, because pedalling efficiency isn't as important as the ability to survive big hits and jumps. If you're blasting singletrack and trails you should be shopping for 120-130mm travel suspension forks. Forks around 100-110 millimetre travel are used in general and cross-country style riding.

The other great feature to have is a lock-out, which locks the fork off and prevents it from compressing at all. Most of our MTB range use lock-out forks, which are great for climbing, flat tracks or other situations where speed and efficiency is the highest priority. When the trail points down again though, you just unlock the fork and let the bike loose.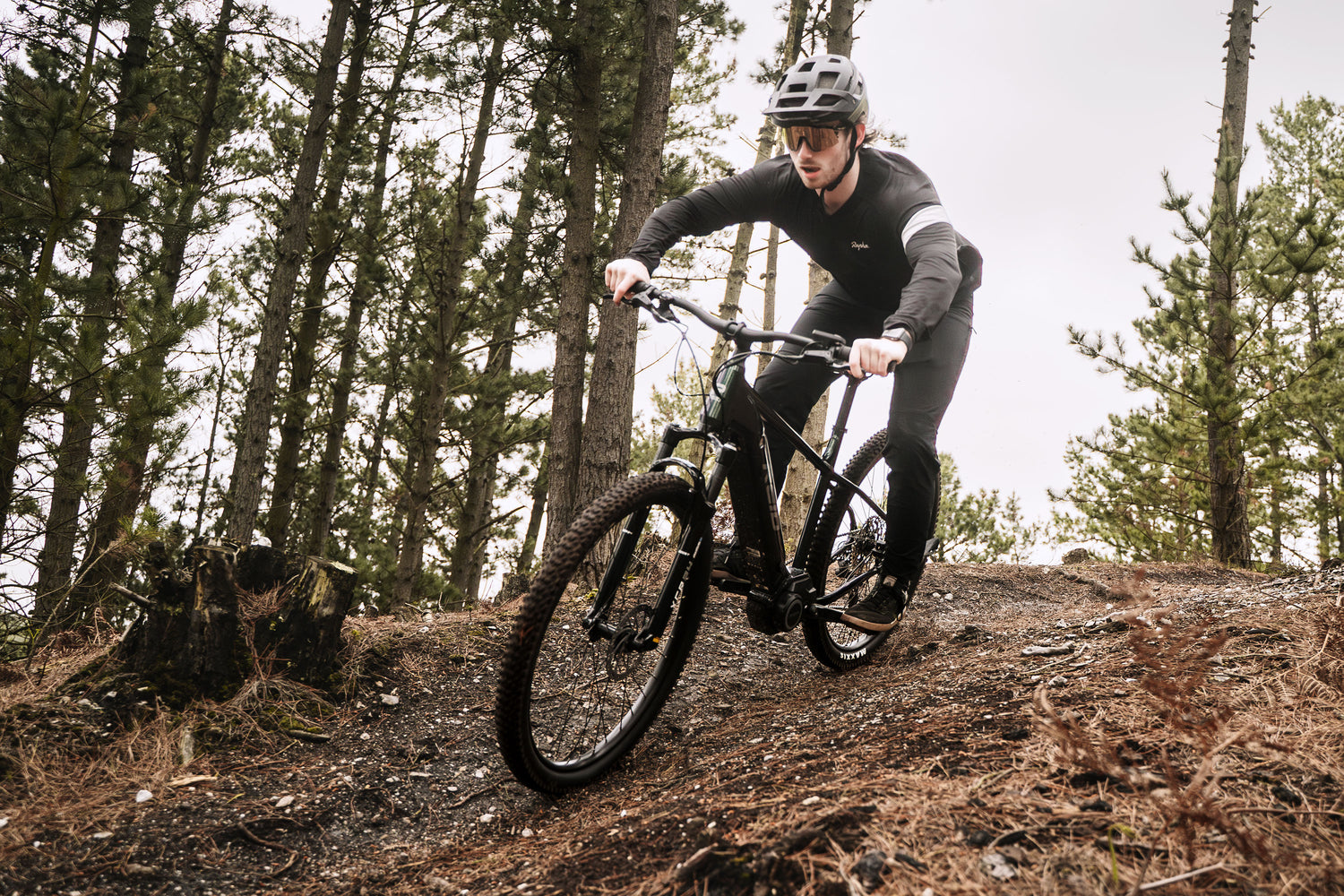 Choosing Accessories
The best accessories that you can add to a Mountain Bike is a good saddle bag with a few extra tools, a spare tube, some patches and a high-volume mini-pump.

When Mountain Biking, you'll want to run low pressure in the tyres for extra grip and control, then pump them back up for the ride home from the trailhead. Given the tougher conditions, you need to be prepared for punctures and running adjustments. Clipless pedals also increase your power and control off-road. Mountain Bikers usually use a recessed cleat system such as Shimano SPD. The smaller, recessed cleats don't poke out from the bottom of the shoe, making them ideal for off-road use.

If you're heading off-road we also recommend you consider a helmet designed for this purpose. MTB helmets are heavy duty and offer more protection to the rear of your skull than standard road and commuting style helmets. The venting is also spaced to optimise air flow at slower speeds. Check out our Evolution MTB Helmets.

...and don't forget to take some water!
Shop MTB
For all new bikes we offer a free first service, lifetime warranty on frame and 2 years warranty on parts.

If you'd like some more information, contact Customer Support or come into one of our stores for a warm welcome and friendly advice. In the meantime, check out our full range of Mountain Bikes.