Electric Bike (Ebike) Buying Guide
An electric bike or eBike is a bicycle that features an electric motor powered by a rechargeable battery. Most eBikes also feature a handlebar mounted control system for setting your level of pedal assistance and displaying basic ride information like speed and distance travelled.
eBikes make it easier to ride further and more often. You can go longer distances, get there faster, easily carry more luggage and arrive in a fresher condition when doing it! You still get an exercise benefit and the simple joy of being on a bike, but the experience is less taxing and something you'll want to repeat daily.
When you consider no parking fees, minimal fuel costs and avoiding crowded public transport - it is easy to see why these bikes are becoming so popular.
To give more riders than ever before the opportunity to get on an eBike, Reid Cycles have partnered with industry leaders to develop our own range of electric bikes. Reid offer a range of systems from affordable hub motors by Bafang and mid-mount Ananda, through to the latest Shimano Steps systems for a premium experience.
Click here to see the full range of Electric Bikes or keep reading to learn how to choose your perfect eBike.
Steps to choosing your perfect eBike:
1. Riding Type & Frame Style
2. Motor & Battery Position
3. Brand of System
1. riding type & frame style
You should consider the type of riding you're most likely to do and choose a frame type designed for that application. Reid offer bikes built for comfort with an upright position, bikes with a more aggressive forward posture built for speed and handling and tough mountain bikes for control over rough terrain.
Riding for comfort and convenience
Whether commuting to work, getting around town or touring on paths over the weekend, Reid offer a great range of eBikes with a more upright posture for improved visibility, comfort and reduced strain on your back and neck.
Built for convenience and everyday use, these bikes also feature mudguards and pannier racks to make riding a breeze.
Shop Comfort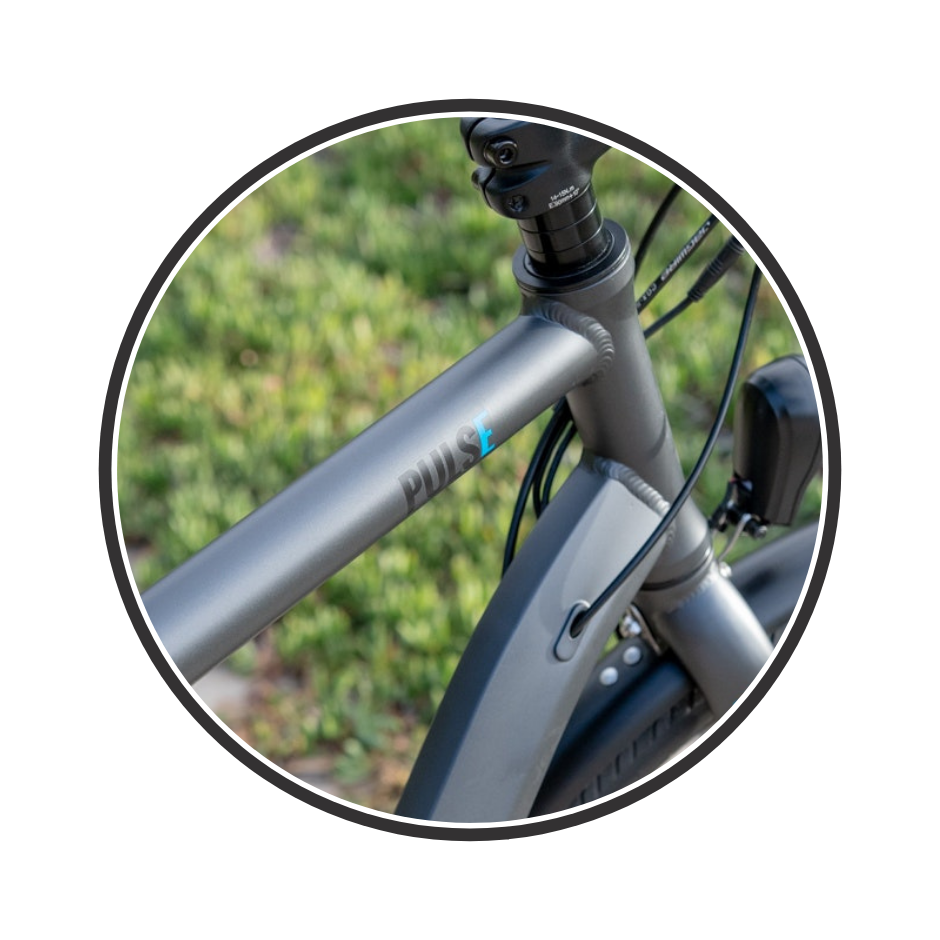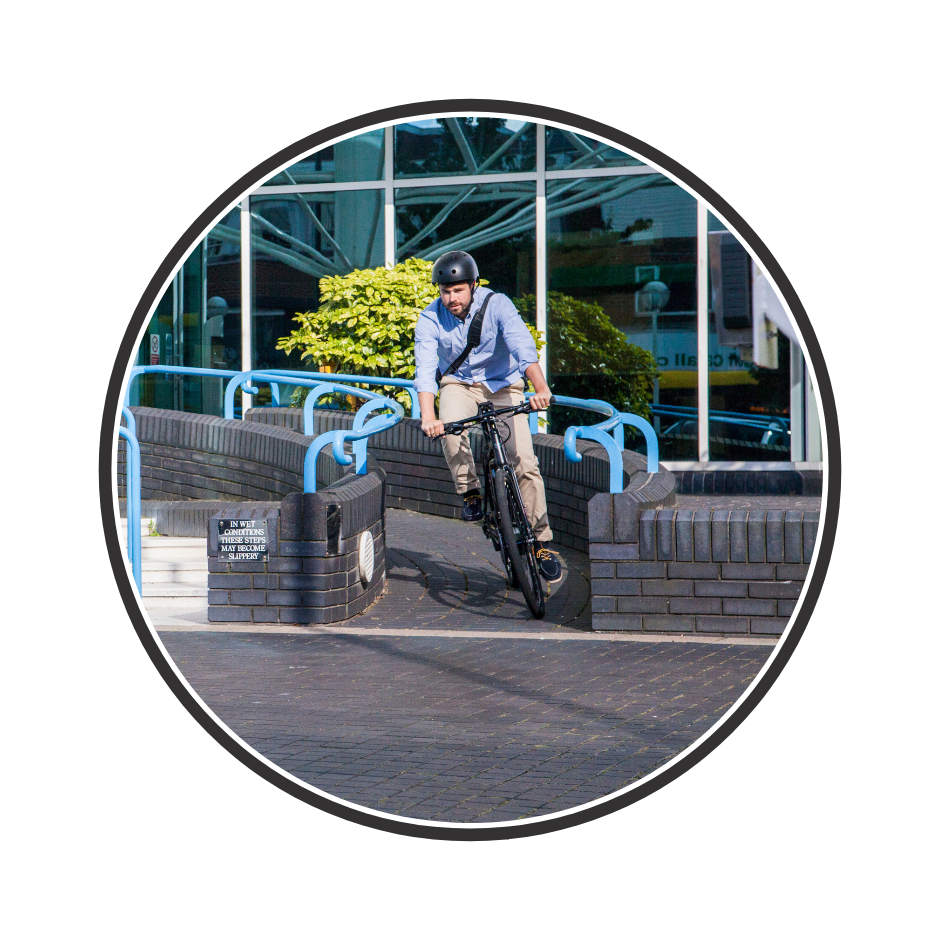 Riding for speed and handling
Although still versatile all-round performers, our fast commuter collection is optimised for getting around the city quickly with safe, confident handling. These frames feature a more aggressive forward posture for pedalling efficiency and taking corners at pace.
These bikes feature gearing and disc brakes designed for fast riding, with a mid-mount motor positioning and downtube battery placement for improved handling characteristics.
Shop Fast Commuters
Riding to handle rough terrain
These bikes are built strong for the rigorous demands of mountain biking. Bikes like this have no problem backing up as commuters though and are a popular choice for people wanting a bike to fulfil both duties.
Built around mid-mount motors with downtube battery packs, these bikes all feature powerful hydraulic disc brakes, strong components and suspension forks for comfort and control over broken ground.
Shop MTB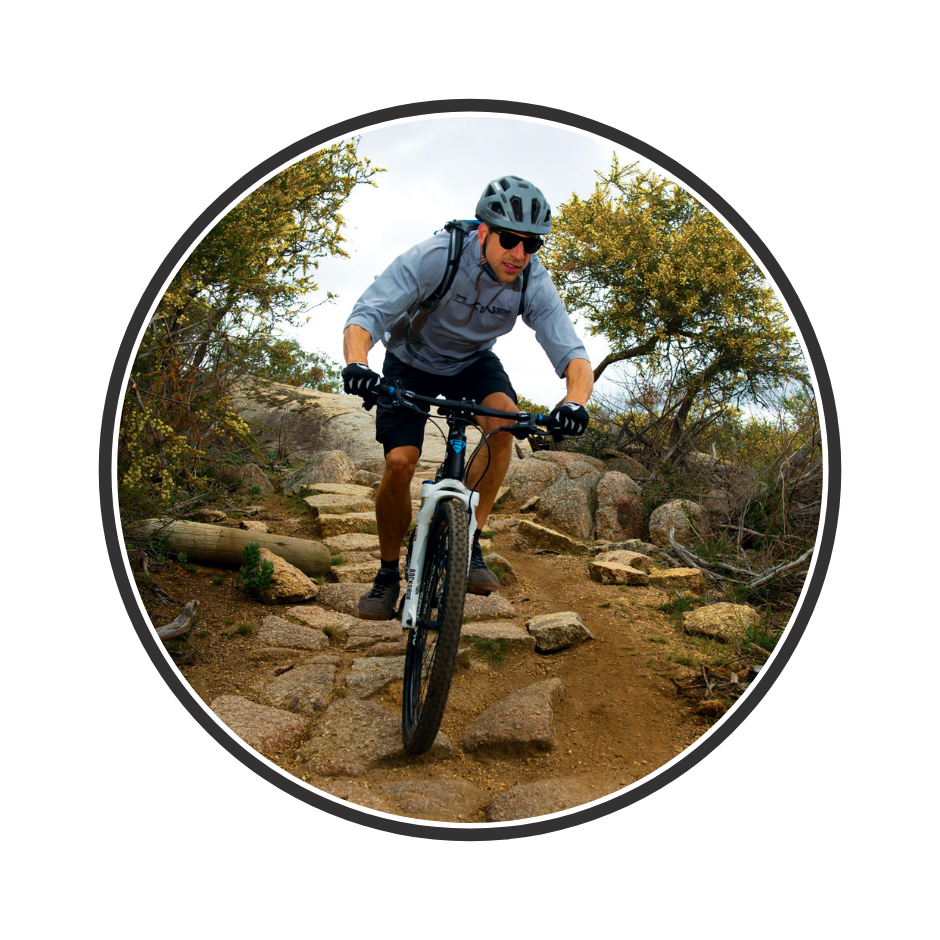 2. Motor & Battery Position
Given the weight of the motor and battery pack, the positioning of these units can have a big influence on the handling characteristics (and aesthetics) of your eBike. The guide below will take you through the two main types of motor positions; mid-mount motors and front & rear hub motors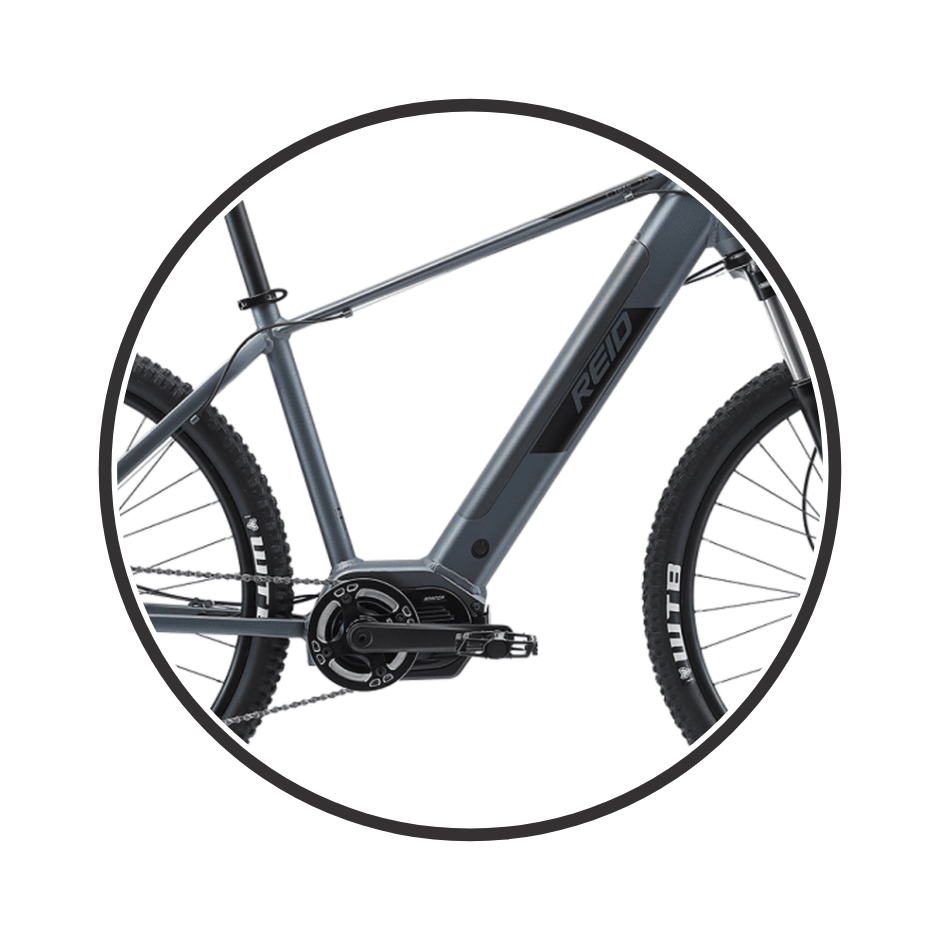 Mid-mount Motor
The mid-mount position offers more options in terms of gearing, smoother acceleration and lowers the centre of gravity of the bike giving a more stable ride over broken ground or when cornering. This benefit is really felt when off-road or riding at speed.
Our performance oriented eBikes also position the battery pack on the down tube to further keep the weight low and centred for handling.
Shop Mid-mount Motors
Front & rear hub motor
Hub motors offer a more discrete, lighter, and more affordable choice. The major trade off is handling at speed or over broken ground. If you are primarily looking to cruise along roads and river paths though, this will not be an issue.
Shop Hub Motors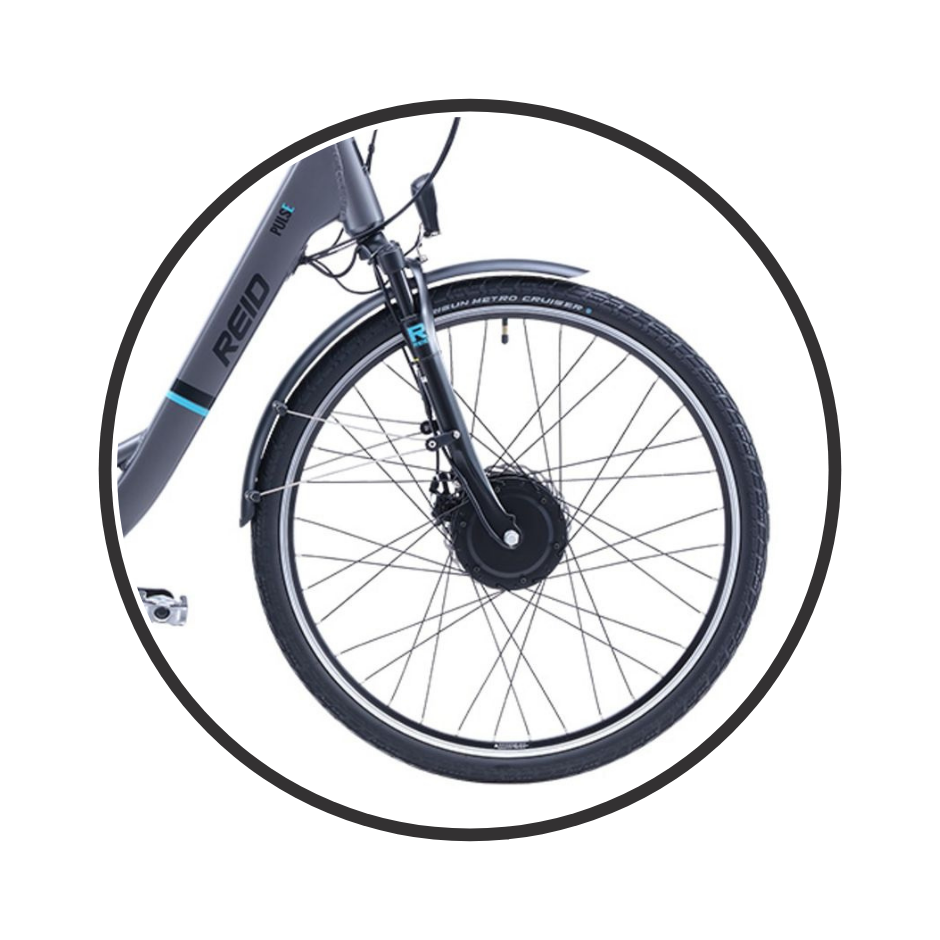 3. Brand of System
Each brand offers features and benefits you should consider. The guide below will help you to find the balance between performance and price that suits your intended use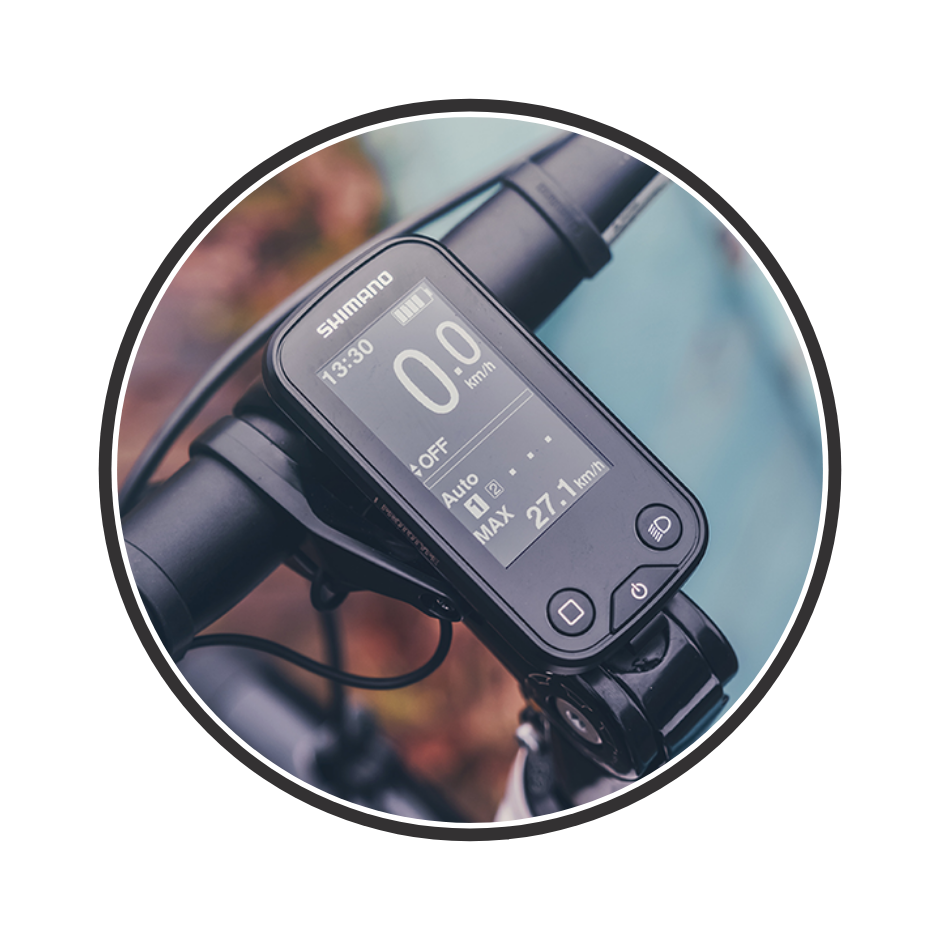 Shimano Steps E5000
Partnering with technology leader Shimano for the drive system and supplying the eBike direct from the manufacturer, Reid Cycles is able to offer this premium eBike system to Australian riders at the best price in market.
Reid Cycles chose to partner with Shimano on these new ranges as the Steps system is a proven performer in the eBike category. Shimano Steps now also offers a local support centre in Australia to support these pedelec systems and Shimano warranty all products (including their Lithium-Ion batteries) for 2 years.
Shimano delivers fast charging, reliable performance, near silent operation and smooth power delivery.
Model: E5000
Motor position: Mid-mount
Distance on single charge: 100 - 150km depending on conditions.
Motor weight: 2.5kg
Charging time: 80% capacity in 2 hours, 100% in 4 hours
Shop Shimano Steps
Ananda
Reid have specified Ananda electric bike motors to offer customers a more affordable mid-mount choice over the Shimano system. Although slightly heavier and with a reduced range, the Ananda unit is rated for all-weather use and offers impressive performance at a cheaper price point.
The M100 featured on the E-Trail 2.0 was chosen for the additional torque (100nm) offered by the unit which really comes in handy on pinch climbs on the trail.
Model: M80 or M100 (refers to maximum torque)
Motor position: Mid-mount
Distance on single charge: Up to 100 km+ depending on conditions
Motor weight: 3.7kg (M80) / 4.3kg (M100)
Charging time: 80% capacity in 2 hours, 100% in 4 hours
Shop Ananda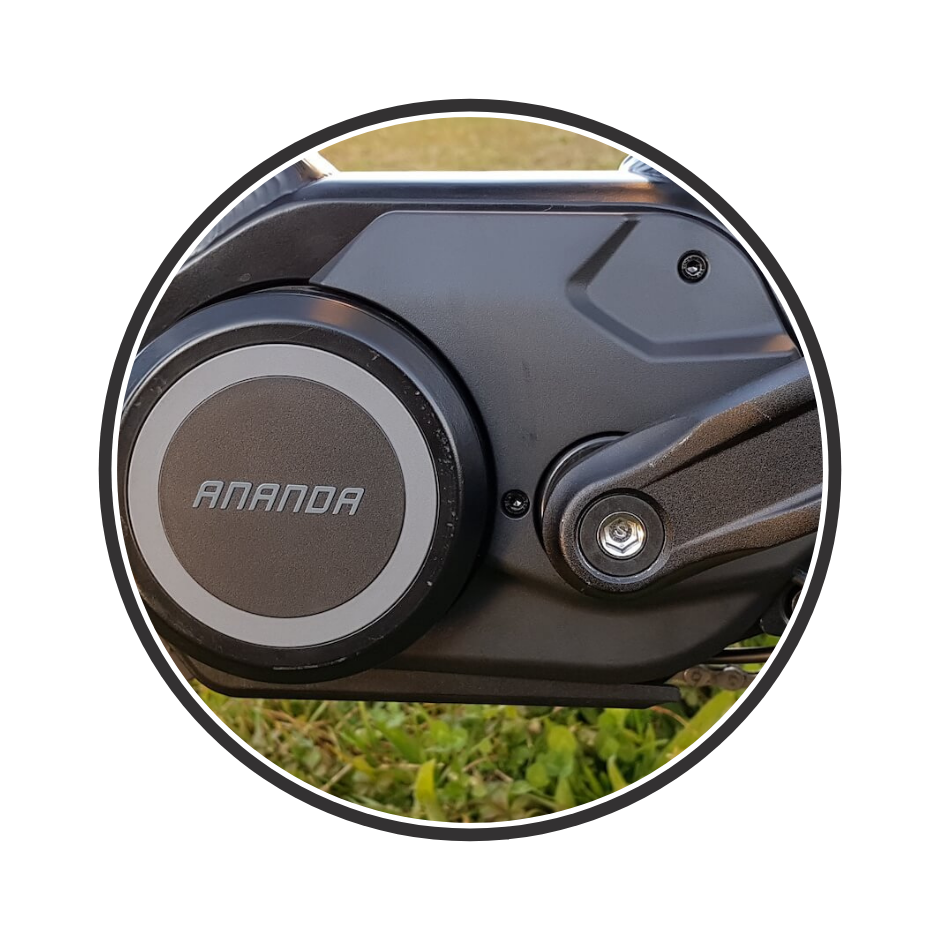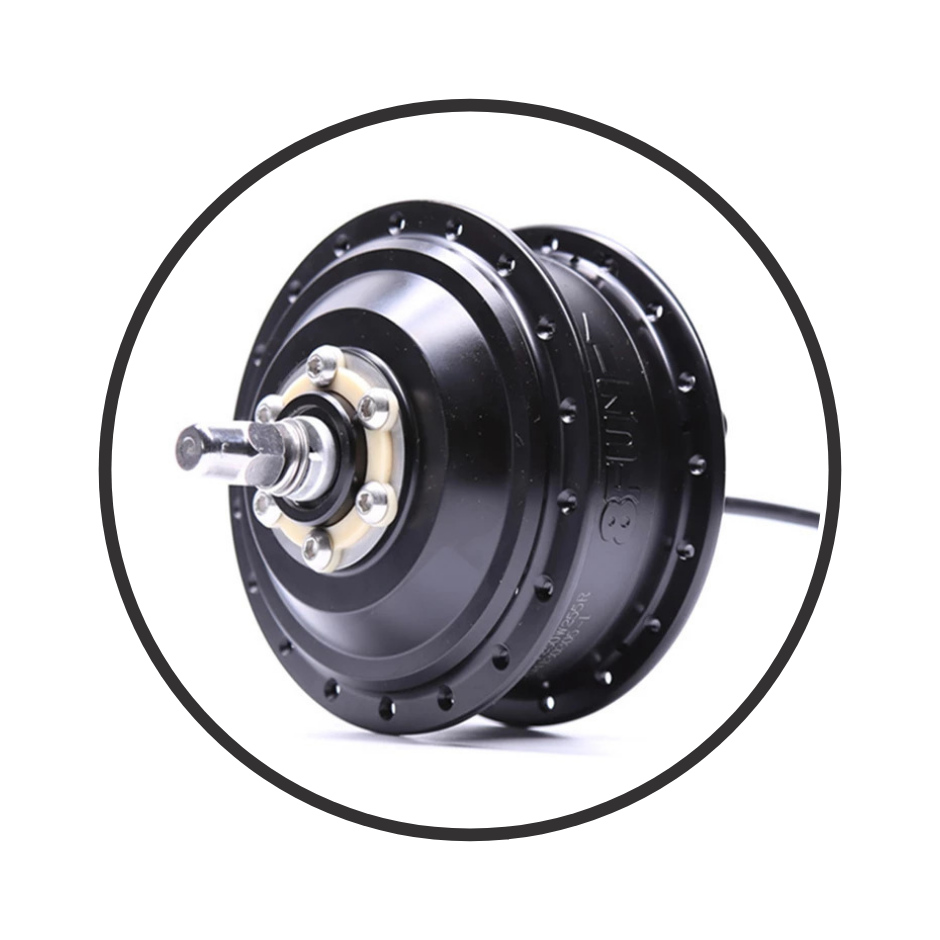 Bafang
Bafang are the largest eBike hub motor manufacturer in the world with a huge presence in the Asian, European and US markets. The motor is light and unobtrusive, recharge time is quick and the range is good. Considering how affordable these systems are, a new eBike now makes a lot of sense for more people.
Model: Bafang 250W
Motor position: Rear or front hub
Distance on single charge: Up to 60 km (8.7Ah battery) - 70 km (10.4/11Ah batteries) depending on conditions
Motor weight: 2.9kg
Charging time: 80% capacity in 2 hours, 100% in 4 hours
Shop Bafang
Compare motor types

Thinking of trying an eBike? Read the FAQs below, contact us or speak to our in-store experts at your nearest Reid Cycles store for a free test ride.
Ebike FAQ
Q. HOW FAST DOES AN EBIKE GO?
eBikes in Australia are limited to 250w and will assist you up to 25km/hr - going faster than this is up to the effort of the rider. Any motor providing more power will be classified as a motorbike and must be registered and ridden by a licenced rider.
Q. HOW FAR CAN I TRAVEL ON A FULL CHARGE?
The range you can expect depends on how hard the battery is working. This will be affected by factors like the weight of the rider, how much luggage you're carrying, tyre pressure, hills/terrain, road condition, wind and the level of assistance or power setting you use.
You can expect the Shimano Steps system to last up to 100km on the highest assistance setting even with hills and extra weight (you can go up to 185km under ideal conditions as reported in Shimano testing). The Ananda system will travel up to 100km+, while the Bafang system will travel up to 60km (8.7Ah battery) or 70km (10.4/11Ah batteries) depending on conditions.
Q. HOW DO I CHARGE AN EBIKE AND HOW LONG WILL IT TAKE?
Simply plug the charger into a standard wall socket at work or when you get home. To charge the Shimano Steps battery from 0% to 80% will take 2 hours, 100% in 4 hours. Most of the time though you'll just need to top up rather than completely refill. Charging times are similar for the Bafang and Ananda systems.
Q. HOW MUCH DOES IT COST TO CHARGE?
The Shimano Steps system uses a 418Wh battery. At 30c/kWh x 0.418kWh = 12.5c for a full charge. Costs are similar with the Bafang and Ananda systems.
Q. CAN I RIDE IN THE RAIN?
Yes, all of these units are sealed and made for all-conditions riding.
Q. CAN I SWITCH OFF THE ENGINE AND RIDE IT LIKE NORMAL?
Yes. Remove the battery pack and it will feel very much like a normal bike.
Q. WHAT DOES 'PEDELEC' MEAN?
The most popular system in Australia is the pedelec (or pedal assist) system. You ride a pedelec by pedalling as normal, while the electric motor adds power to each pedal stroke - flattening out the hills and getting you up to speed with much less effort.
Q. HOW OFTEN SHOULD I SERVICE MY EBIKE?
We recommend your bike is serviced during the first 3 months of ownership as components bed in. Frequency of servicing after that depends on usage and what maintenance you choose to do yourself in terms of caring for the chain and other basic tasks. A regular rider who does not perform any maintenance may benefit from servicing every 6 months. Click here for more information on servicing.
Browse Featured Collections