What is a Road bike?
Road bikes are designed to be the peak of speed and efficiency on sealed road surfaces. Whether you're looking for flat out pace for racing, training or triathlon; or a setup more designed for big distance rides with friends – then you've come to the right place.

Common features that mark out a Road bike include a lightweight aerodynamic frame and fork, a wide range of gears, drop handlebars and 700c wheels with slim (23-28c), high-pressure tyres.

Other similar categories
Reid Cycles also offer some models of our Road bikes with flat handlebars for riders who enjoy the lightweight speed of this category, but like to commute on the same bike (flat bars offer a more upright and comfortable riding position ideal for negotiating traffic).

If your route is bumpy or you want a more versatile bike that can handle some daily abuse, consider our leading range of Gravel bikes.
Choosing a Platform - Racing Vs Endurance
The Reid Road range is designed to provide a great option for all the most popular ways people ride. You may want to specialize in a niche discipline like time trials down the track, but for riders who want to hit the road and do some fast kilometres, then we've got you covered.

Firstly, you should consider whether you want a bike that leans more towards the traditional Road Racing geometry or a more all-round Endurance (Gran Fondo) style.

We cover the basics below, but you can read here for a more detailed analysis of the differences between Road and Endurance bikes.
Road Racing Setup
Our Road Race style bikes are generally the more upright and nimble designs. The geometry features lower handlebars and flatter body position for aerodynamics and more efficient power transfer through the bike to the pedals. These bikes are made light and fast with the ability to sprint.

Planning to don the lycra and join the high-speed Saturday morning peloton in your city? Shop our Road Racing bikes.
Looking for the Road racer experience on a budget? Then check out our popular Osprey.
After a fast, purist, alloy-framed Road racer built to perform? Check out our popular Falco platform.
Want this type of bike but with a full carbon frame and disc brakes? Stay tuned for our new Soar range landing late 2023.
Endurance Road Setup
If it's your first Road bike, an endurance style is a good place to start. The geometry is a little more forgiving (a little more upright so it's easier on the body over longer distances) and is a little easier to handle.

Looking for the best bike on a budget? Check out the Express or Aquila.

Ready for the extras like disc brakes and Shimano 105 kit? Test ride the Vantage range.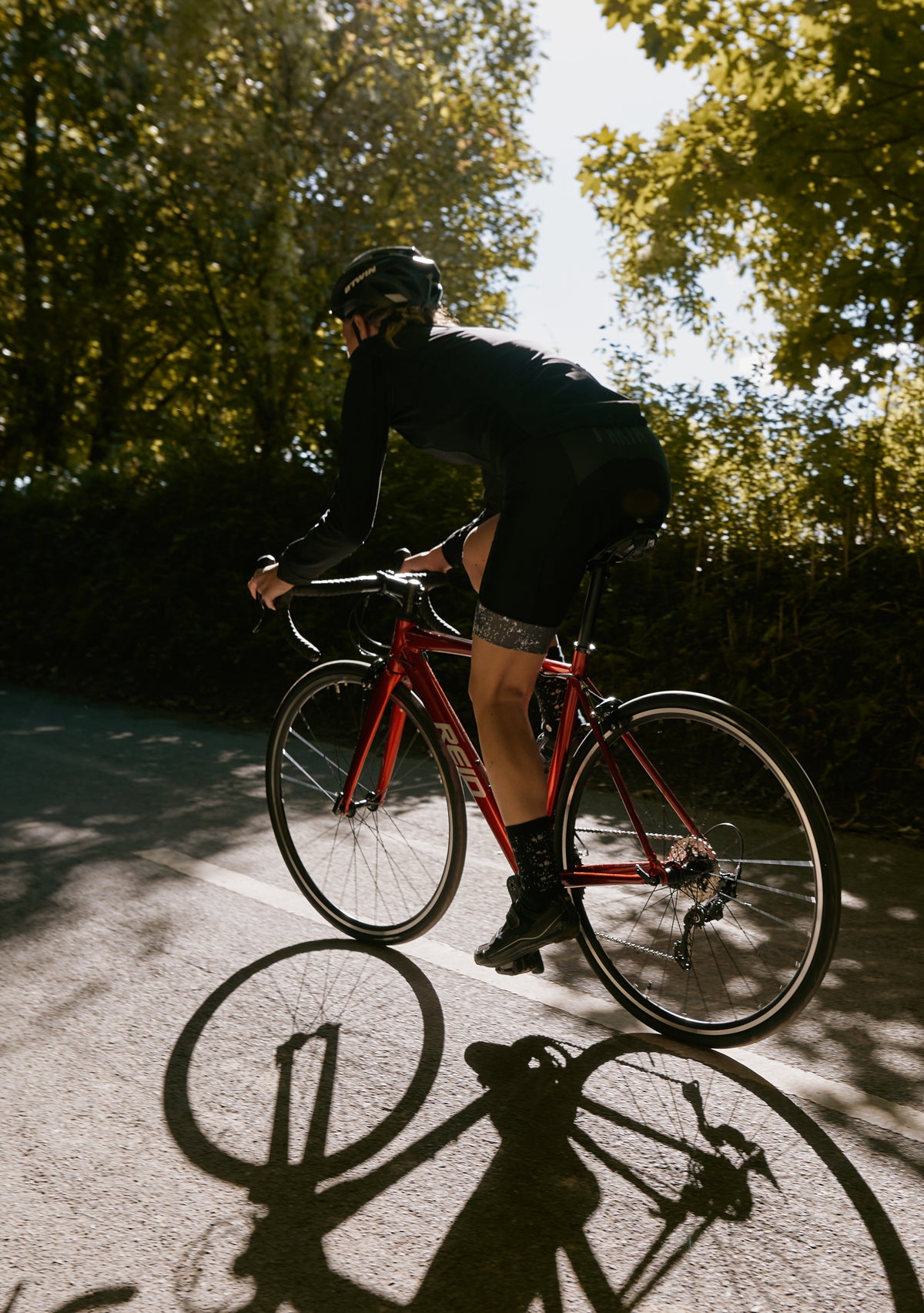 Choosing Frame Materials
There is a lot of talk about carbon in this space. Cheap carbon frames are just not worth it, and a good quality alloy frame will have better lateral stiffness, more vertical compliance and a similar weight to cheap carbon. It will also be more durable.

That said, carbon is an amazing material when handled by a reputable manufacturer. Test ride our Soar range to feel the benefits of carbon for flex and vibration damping.

For riders who want a nice bike on a budget though, consider the popular bang-for-buck combination of an alloy frame with a carbon fork as available in most of our performance ranges.

A carbon fibre fork is a great upgrade as they're light, strong and reliable; while the slight flex they provide will really deliver a noticeable reduction in 'road buzz' for more comfort on longer rides.
Road Bike Fit
Fit is extra important on a road bike, due to the more precise geometry of the frame and the longer, harder efforts on the bike. Check out our sizing chart for recommendations or visit one of our stores for advice and a test ride (especially if you're on the cusp of size ranges).

The fit of the frame should be spot on. You should be able to adjust the saddle height to suit your leg length and extension. Then, when you're sitting on the bike you should feel even pressure on your seat and your hands. You shouldn't feel any extra strain in your back or shoulders.

A comfortable, neutral position is required for the long haul. When you decide to sprint or climb, you'll be able to move to a more aggressive position to put the power down.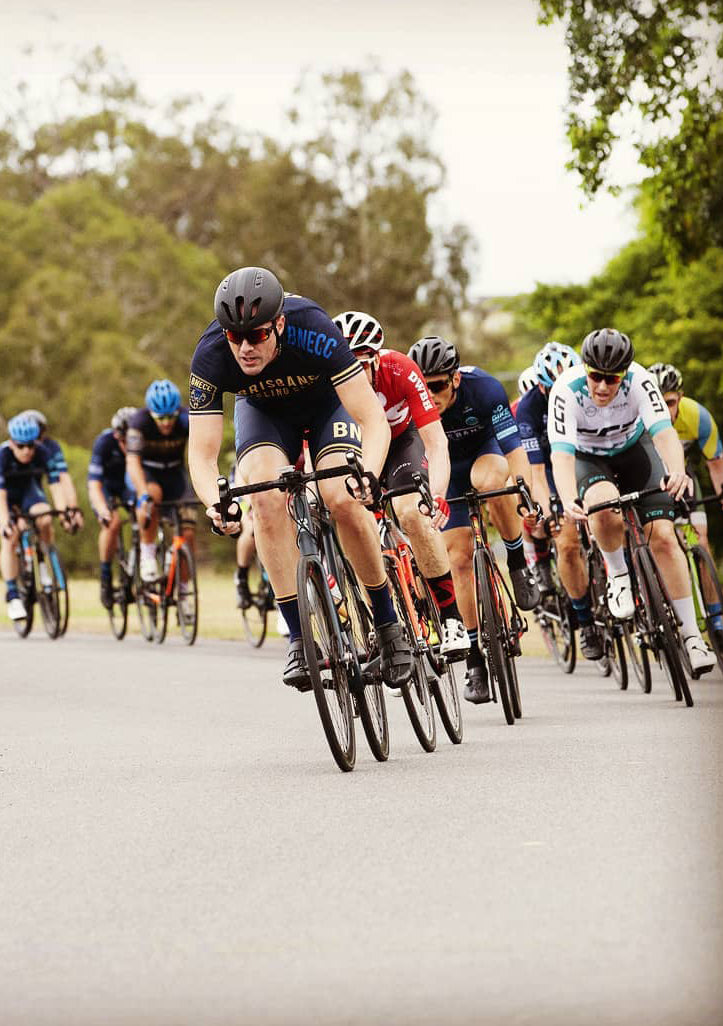 Key Components
Reid Cycles specify a lot of Shimano components on our Road bikes. This is because in most cases, Shimano deliver quality components made for durability and performance at an unbeatable price. This holds true from their more budget conscious ranges like Claris and Sora, through to the Tiagra and 105 components on our higher-end bikes.

We are always looking for better though and you may see key parts from brands including SRAM and FSA if they provide a better part for the money.

Crankset
Most road bikes come with either double or triple chainrings. Double chainrings are ideal for rapidly changing across the range of gears, such as grabbing a high gear for a sprint or dropping to a low gear to climb a hill. Double chainrings are either the standard racing crankset, typically with 53-tooth and a 39-tooth chainrings, or a compact crankset, typically with 50-tooth and 36-tooth chainrings.

The racing crankset (triple) is great for flat-out speed and power, while the compact crankset is great for endurance riding and mixed terrain. Going with triple chainrings gives you even more range, with plenty of low-end gears which come in handy if you do lots of climbing.
Brakes
Road bikes have traditionally used calliper style brakes (not disc) and were slow to adopt this superior technology (mostly due to the ruleset imposed by the racing body). This is rapidly changing though, and you will see a lot of high-end bikes fitted with hydraulic disc brakes now.

Discs offer far superior braking power and modulation (especially when wet) for a similar weight. They are more expensive though, and some riders prefer the classic calliper style for aesthetics and ease of maintenance.

Other kit choices
Riding road bikes can become an obsession and people develop very strong preferences for certain kit. The other key components that you should investigate include the saddle, pedals and tyres. All of these components can be changed or adjusted to suit your needs.

Saddles are a matter of personal preference, but don't be afraid to go for something firm. It seems counter-intuitive, but a saddle that's too soft allows you to sink in too far, potentially reducing circulation. The perfect seat would be very firm, with the right fit for your body. Experiment with a few to get the width that matches your sit bones and you'll experience better comfort and support during those long hours in the saddle.

Broadly speaking; tyres vary between fast and lightweight racing tyres such as the Kenda Kriterium, and heavier (but more durable) puncture-protected tyres such as the Maxxis Refuse. If you only ride big distances on pristine country tarmac then go lighter. If you also ride in the city or commute on the same bike, go heavier.

We sell our road bikes with very basic flat pedals as every rider will have a favoured system that suits their shoes.