How to Choose the Correct Kids Bike Size
Nothing beats getting your first real bike as a child! It's important to get the correct kids bike size so that your little rider is comfortable and confident on their new set of wheels from the beginning.
Kids bikes are generally measured by the size/diameter of their wheels. This differs from adult bikes, which are generally measured by the size of their frame. This is because adult bikes get more specialised and need different wheels for different applications.
Kids Bike Size Chart Guide
Kids grow fast, but don't be tempted to buy a kids bike too far ahead of their correct size. The right size children's bike will be easier to control, making learning and confidence building much faster and safer.
Keep in mind that all Reid Cycles kids bikes also come equipped with adjustable handlebars, stems and saddles to get the fit just right and give bike adjustability as the child grows.
Learn how to estimate the right size bike for your child using the chart below. Keep in mind that a test ride at one of our stores or on a friend's bike is always best - especially if your child is on the cusp of sizes. Height is a simple measure to use, but things like limb proportions, strength, coordination and confidence/experience may mean your child can size up more than the average.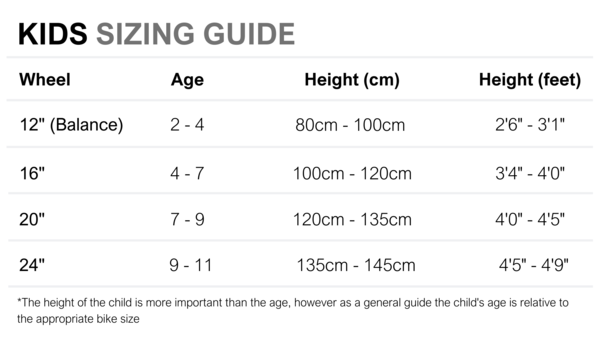 Progressing your child through the sizes
Bikes for infants start simple and light. As the bike gets bigger and the skill level grows, complexity in the form of pedals, hand brakes and gears is added. This progressive design is intended to let the budding rider get comfortable with their equipment as they grow in confidence.
Balance Kids Bikes

 

– these bikes feature no pedals which is perfect for getting your real young ones started with the gliding motion of being on wheels.
12" Kids Bikes

 

– these bikes are the next step up and include pedals, a rear coaster brake for ease of use and removable training wheels.
16" Kids Bikes

 

– include pedals, rear coaster brake and a handlebar lever brake (to start getting used to it) and removable training wheels.
20" Kids Bikes

 

– these bikes are getting closer to an adult bike with handlebar brakes and gears. By this age many kids will want to ride for longer distances, so the bikes are made to travel fast and handle well.
24" Kids Bikes

 

– by this age many children are confident enough to push their riding and the bikes feature gears, more powerful brakes and sometimes suspension forks for tackling some mountain bike trails.

Other Factors to Consider when Choosing a Bike for Kids
Safety and Comfort
Small children find using rear coaster brakes the easiest way to stop, so we have added this safety feature to all of our 16" kid's bikes in addition to the hand operated caliper brakes.
It's also important that your little rider has a well-fitting helmet. An Australian Standards compliant helmet will provide real protection against the knocks and bumps that sometimes come with learning to ride. Check out the range of Reid Kid's bike helmets.
Buying a Quality Kids Bike for Your Child
A good quality bike gives kids a great start into the world of riding. Reid kids bikes are built light for ease of handling and tough to withstand years of being left in the rain, taken over jumps and ridden through the muddiest of puddles.
A Note on Riding on the Footpath
In all states of Australia, it's legal for children under 12 years of age to ride on the footpath. It's also legal for an adult to ride on the footpath if they are accompanying that child. Naturally, you are also required to ride in a manner that is respectful to other footpath users, so you should keep to the left unless overtaking, use hand signals and communicate clearly with other footpath users to reduce risk and keep everyone happy.
A Kids Bike Lifetime Warranty
We have a range of great value kids bikes, and as per every Reid Bike you'll get 12 months of free servicing, a lifetime warranty on frames & rigid forks, plus a 2 year warranty on parts. Check out the kids bikes here.
We hope our kids bike size guide has helped you in understanding what the right bike size match is for your little one. Please contact our Customer Service team or visit your nearest Reid Cycles store if you have any questions.
Check out our full range of kids bikes here!