Cyclocross/Gravel Buying Guide
Thanks to the booming interest around Cyclocross and Gravel racing, the key characteristics for the perfect commuter bike have now been honed into a new class of machine – fast, tough, nimble and comfortable on rough roads.
Although these new bike categories of Cyclocross (CX) and Gravel bikes (Gravel-Grinders/Adventure/Off-Road Racers) have a racing pedigree, they manage to strike a balance that makes them perfect all-conditions all-round commuters for most regular riders. Perfect for fast commuting, distance road rides, bumpy river paths or dirt road explorations on the weekend (you can even race on these if that's your thing).
Thinking of trying a Cyclocross Bike or Gravel Grinder? Read the FAQs below and contact your nearest Reid Cycles store for a free test ride.
What's the difference between a CX bike and a Gravel-Grinder?
CYCLOCROSS RACING
To understand these bikes better it is helpful to know where they came from. Cyclocross (CX) is a form of off-road circuit racing which is measured in time with races ranging from 30 minutes for beginners and juniors up to 60 minutes for pros. Riders aim to complete the most amount of laps in the allotted time.
Cyclocross is currently extremely popular in Europe and the UK and gaining momentum across the USA and Australia. Melbourne holds Cyclocross races in the colder, muddier months and these events are a great way to test yourself and meet a few other hardy souls.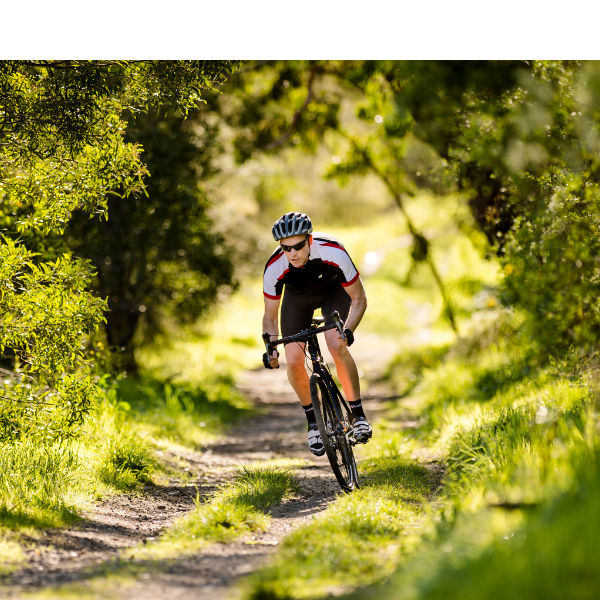 The unique thing about Cyclocross is the terrain that makes up the circuits. For the most part, riders will encounter grass, dirt, mud, sand and a wide variety of other rough ground such as rock gardens, cobblestones and small sections of asphalt. Courses also feature barriers which require riders dismount and "shoulder" their bikes to get over the obstacles. CX is a rough, dirty form of racing that requires speed and agile handling. This means the bikes need to be fast (like a Road Bike), but also very tough and responsive (like a Mountain Bike).
CYCLOCROSS BIKES
The geometry and aesthetics of CX bikes closely resemble those of Road bikes with a few subtle changes including wider tyres and clearance, brakes designed to perform in the mud and stronger frames with higher bottom brackets to clear obstacles and aid agility.
These features also make CX bikes an excellent choice for a fast commuter bike. The stronger materials used increase rigidity and reduce road buzz, making for a more comfortable and enjoyable commute. On top of this the higher bottom brackets allows riders to quickly and easily tear around corners without the fear of pedal strike as pedals and cranks are generally higher off the ground than those on a conventional road bike.
ALL-ROAD / GRAVEL-GRINDER RACING
Gravel riding is really taking off in America partly because of the vast network of dirt roads criss-crossing the country. Australia has some similar infrastructure so the trend is picking up here too. It's a great way to get off the beaten track and explore some peaceful countryside without the traffic that can ruin a weekend pedal.
Naturally, people are also racing in these conditions. Unlike a CX event though, Gravel-racing is typically a distance affair with some technical features and hill climbs. Riding on dirt between 100 to 200 km is tough on body, mind and gear so the bikes are built accordingly.
ALL-ROAD / GRAVEL-GRINDER BIKES
The easiest way to describe these bikes is to imagine a Cyclocross bike built with more relaxed geometry, a lower centre of gravity and longer tube lengths for comfort while riding over longer distances. CX bikes are more agile and quick; while All-Road Gravel bikes are better suited for longer distances and more frequent use - especially over hard-packed surfaces like gravel roads or poorly maintained city streets. Characteristics that make them a perfect commuter.
Versatility is key to this category of bikes. They are built for long rides that can lead anywhere – whether it's a rough commute in the wet, a nip down that dirt track you've always just ridden past or a fully blown weekend off-road bike packing adventure. These bikes are the true all-rounders of the cycling world and allow you to just follow your nose, knowing that your bike will be able to handle the challenge.
SHOP REID CYCLES, AUSTRALIA'S BEST VALUE BIKES
For all new bikes we offer FREE servicing for 12 months, lifetime warranty on frame and forks and 2 years warranty on parts.
If you'd like some more information, give us a call or come into one of our stores for a warm welcome and friendly advice. In the meantime, check out our full range of Cyclocross and Gravel Grinder Bikes here.