The Best Mountain Bike Trails in Brisbane
5 February, 2021
We explore our favorite MTB trails that Brisbane has to offer!
Cycling in general, and mountain biking in particular is growing apace in popularity as people recognise not only the health and environmental benefits of throwing a leg over a go anywhere velocipede, but also the sheer fun factor of viewing the bush on two wheels. This has led to a growth in the number of councils and organisations creating purpose built facilities for race and recreation, and Brisbane mountain bike trails provide no exception to this trend. With both formal parks as well as bushy enclaves, Brisbane offers a host of opportunities for both the beginner entry level and experienced Mountain bike rider enthusiasts alike. Read on to discover our favourite mountain bike trails in Brisbane.
Mt. Coot-tha - Gap Creek
Distance from Brisbane CBD: 12.9 km
Difficultly: Ranging easy to more difficult
Moments from town and accessible by public transport, vehicle or even on foot, Mt. Coot-tha, (also known as Gap Creek), is the sort of destination most mountain bikers only dream about having in the heart of suburbia. With 23.5km of "official" mountain bike trails and 31km of shared use trails there is ample opportunity to stretch legs and lungs, and the difficulty varies from open and easy, to trails with a range of berms, boardwalks and rock gardens that will keep the expert amused and the beginner passing house bricks. Trails are graded and signposted, so it's easy to find something to suit, and if you are unfamiliar with a trail don't ride something you can't see the bottom of – get off and scout, there are a few lurking drops and obstacles that are not for the uninitiated, so be warned…
Mt. Coot-tha has toilets, car parking, and picnic areas, plus a skills park to practice on and a wide variety of mixed terrain, so can be a destination for an hour or a full day. On mixed use trails always respect other trail users, and go at walking speed past equine types; too many mountain bikers speed past horses and scare them, which can hurt the horse, the rider, the biker and the reputation of the sport, so use the grey matter you keep in the helmet support structure above your shoulders, no one wants to share a track with half a ton of spooked quadruped. More information can be found here.

Hidden Vale Adventure Park
Distance from Brisbane CBD: 82.2 km
Difficultly: Easy to intermediate
Hidden Vale Adventure Park is 80km south west of Brisbane, but most people agree the hour or more of fossil fuel fed transport is well worth the investment. It is private property, so be aware of this and as always, respect the area. Commonly used as a race venue, the trails are clearly graded and signposted, and have a range of difficulty from easy to advanced. There is over 50km of marked trails, but they are organised as a series of shorter loops, so it is never too far, (relatively), to the end of the trail when sneaking fatigue sets in. This saves crying in the bush if your fitness in not all you dreamed.
There is also a skills park, and many of the trails have all manner of obstacles to challenge you – berms, bridges, see saws and the like. There are toilets available, water and car parking, plus a town near by with cafes and a pub, should your require beverages of a caffeinated or alcoholic variety. Nonetheless, it is a more remote location, so be as self-sufficient as you can, and ride within your limits. In addition wildlife is very common in the forest, so animal encounters are on the cards. There is a $10 entry fee per day for all this joy, and more information can be found here.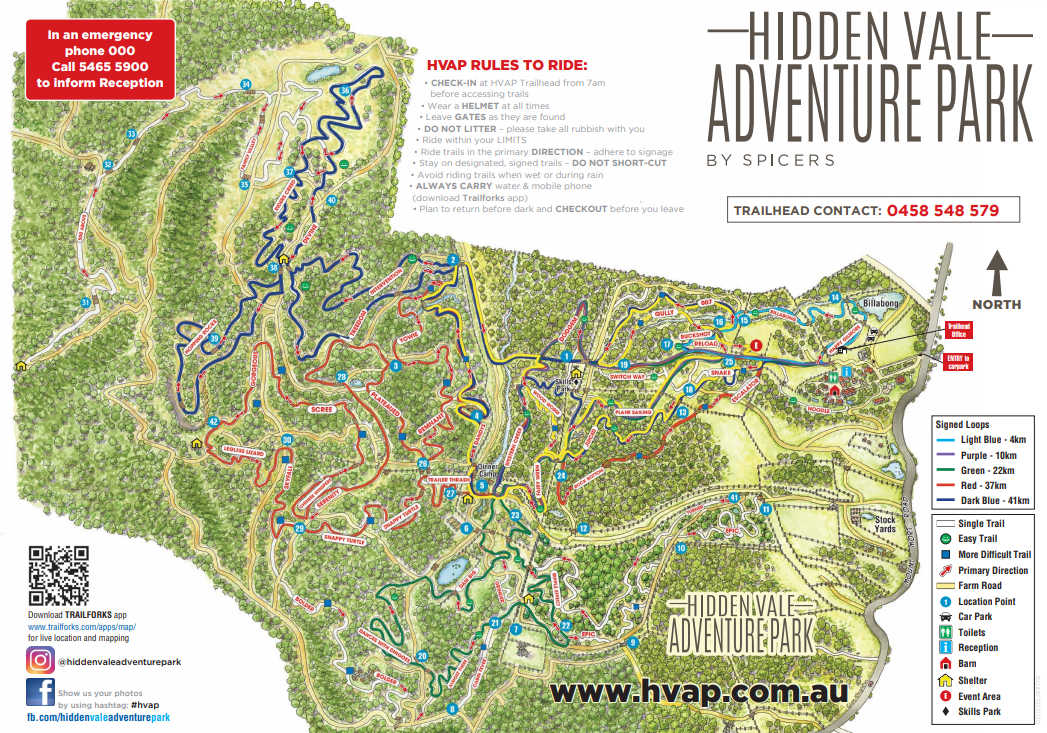 Daisy Hill
Distance from Brisbane CBD: 26.1 km
Difficultly: Intermediate
Daisy Hill is just south of the city and not only provides a range of smooth and groomed trails, but with a little cunning and research can be tied to a cornucopia of other trails being developed in the surrounds to provide almost limitless opportunities for adventure on two wheels. It boasts water, toilets and a BBQ area, with both shared use and dedicated signposted biking trails. Bike trails are built to international standards, and cater to everything from technical ups and downs through to rambles suitable for beginner riders .
There are both single tracks and fire roads, and some of the gnarlier climbs can be avoided with the tricky use of those tracks designed for vehicle access. Gates are locked in the evening, so be aware of this and don't get locked in. Although if you did, at least you'd have a bike to ride home on… Daisy Hill is shared use, so there may be walkers, horses and dogs to be aware of. More information can be found here. Photo via visitbrisbane.com.au.

Other MTB trails near Brisbane
There are plenty of other areas around Brisbane and surrounds for the mountain biker to explore, some documented, some not. A selection include:
Bunyaville Regional Park
Distance from Brisbane CBD: 15.8 km
Difficultly: Intermediate
Bunyaville Regional Park 15km north of Brisbane has ten dedicated MTB trails, plus some shared use trails, with more fitness and navigational skill required to enjoy this bushy haven. Find information about Bunyaville Regional Park here.
Underwood Park
Distance from Brisbane CBD: 23.2 km
Difficultly: Easy to Intermediate
Underwood Park, 24km south east of Brisbane has trails, a pump track, skills track and a trials park with nothing too technical to intimidate the beginner. Find information about Underwood Park here.
Bayview Conservation Park
Distance from Brisbane CBD: 44.1 km
Difficultly: Easy to Intermediate
Bayview Conservation Park near Redland Bay has a range of trails from benign to almost uncontrolled, and some of the fire roads are almost too steep to climb, making the downhills equally of interest. There are some pleasant single tracks on the flats, but you may want to wear your brave trousers for this one. Find information about Byview Conservation Park here.
Other off-road cycling near Brisbane
Additionally, two huge resources to the off-road cyclist near Brisbane are Moreton Island and South Stradbroke Island. With spectacular beac hes and sand dunes linked by sandy tracks winding through the bush, these are ideal locations to spend a day or weekend bike packing and enjoying your own private slice of solitude. Fatbikes such as the Reid Zeus are ideally suited to this type of riding, and can be a little more of an adventure than a standard mountain bike. Even a standard mountain bike will get you out on some of the 4wd tracks, however, and it's so much cheaper than a LandCruiser.

Hit up Brisbane's best Mountain Bike Trails today!
Ready to hit the trails? First you're gonna need an epic, adventure-ready mountain bike. You can check out our range of MTBs online or head into your nearest Reid store.
So don't be frightened to use your imagination to find new places to ride. With it's temperate climate Brisbane is an excellent place to bike, so when you have exhausted this list, speak to your local bike shop, club or Reid dealer about their suggestions of favourite places to ride. Now put down the computer, grab a helmet and hit the trails. You'd be mad not to.
If you're ready for adventure check out even more MTB Trails around Australia