Find your way to work each day and then get lost on the weekend. Meet the new flagship bike in our popular All-Road family – the Reid Granite 3.0. This is the cleverly worded introduction from Reid Cycles which suggests that their new Granite 3.0 is the one bike to rule them all. You can now forget the n+1 rule (where n is the number of bikes you should own) because you no longer need purpose specific bikes, the Granite is on double duty as a commuter bike and weekend getaway.
The Granite 3.0 belongs to the Gravel Grinder and Cyclocross (CX) family, these are drop bar relatives of the road bike but more versatile. Gravel Grinders and Cyclocross usually feature disc brakes and are at home on tarmac and unsealed roads and trails. Versatility is the keyword for this style of bike.
I sampled the Reid Granite 3.0, tested its commuter capabilities and did indeed manage to get 'lost' (as well as a bit dirty) on the weekends. Let's find out if this is the right bike for you.
Feature rich with modest pricing
To begin, let's get a bit technical. The Reid Granite 3.0 is based around a seemingly standard looking double butted Aluminium Alloy frame and incorporates current industry standard thru-axles front & rear (12mm) with carbon bladed forks & alloy steerer. The frame tubing has some shape and taper to the various tubes and some exaggerated profiling on seat stays to add some compliance to the rear end. It features mounting points for luggage rack and mudguard stays on the rear, but curiously misses out on the mounts to fit full fenders on the front for year-round commuting duties. Overall, it's on the right track.
The drivetrain, save for the FSA Gossamer Pro crank (with compact 50/34 chainrings), is 2×11 speed (with 11-32 cassette) Shimano 105 and for braking uses RS505 Hydraulic disc shift levers, 160mm RT-66 discs and rolls on a WTB STP i19 Alloy wheelset shod with decent Continental UltraSport 32C road tyres. The contact points include the Reid branded alloy bars (compact drop), a carbon seatpost and CX Race saddle. A bonus is that the Bottom Bracket shell is a BSA threaded unit which makes future replacement and servicing easier.
The Granite 3.0 is available in 4 sizes that are oriented to riders over 160cm (5' 3" for the imperialists) and up to 198cm (6' 5").  The slightly restricted range is a side effect of the pricing, but the majority of people will be able to get a size that fits. I'm 184cm and rode the 'Large' frame, aside from fitting a slightly longer stem (120mm in lieu of the 110mm standard item), I felt very comfortable.
The frame is finished with a satin finish 'Slate Grey' with the Reid logos integrated in a subtle blue/grey that adds a classic touch in the overall styling. The bike is devoid of other flashy marketing logos/slogans so is pleasing on the eye.
At a glance, for the price of RRP $1,599 it lives up to my expectations on quality and specifications. It's a modern Gravel bike that represents value for money in comparison with similarly spec'ed bikes from other brands.
CycloCross, Gravel Grinder, Commuter bike or something else?
In a nutshell, it's a satisfying blend of all three styles of bike. Reid Cycles founder James Reid describes it as "an Allroad/Gravel bike,  … designed to be comfortable for long rides to explore off-road trails such as fire-trails, gravel roads, but not extreme MTB tracks ".
It has the capability to be a serious commuter bike (the type of bike a passionate road cyclist would want) as it takes road cycling tyres without a fuss. Off the shelf it is fitted with the Continental UltraSport II tyres in 32c width and would comfortably take up to 40c. If you wanted to improve the off-road capabilities, the Continental Cyclocross Race 35c are currently provided with the bike as a promotional offer.
After initial setup and tuning for position, I took the Granite 3.0 out on the road for several outings to get a feel for the bike and to see how it handled the various surfaces. It has a longer wheelbase than my road bikes which I anticipate would aid handling for off-road duties.
The initial impression was that despite the solidity of the frame, the 32c tyres, laughed off many of the road irregularities and potholes thrown at it by suburbia and lax road repairs. Considering I have a road cycling background I felt that the Granite delivered a pleasingly sinuous ride. The UltraSport tyres also provided excellent good grip. In comparison to the more conventional road sized 25c fitted to pure road bikes, the large 32c tyres didn't seem to slow me down noticeably.
At this stage I feel that while the bike is competitively priced, the equipment selection is very thoughtful so I felt good on the bike.
Off the beaten path
After a few hundred kilometres assigned to commuting duties and exploring sealed cycle paths, I took the plunge and fitted the supplied 35c Cyclocross Race tyres and headed off-road. The tyres provide more width (good for trails) and a grippier tread (also good for trails). Whilst I've dabbled in Mountain Biking, the realm of Cyclocross and Gravel Grinding is new to me. The first 'off-road' tour was an exploration of the dirt trails running alongside the River Torrens in Adelaide. I was amusingly surprised at how much I enjoyed the challenge, the paths were right on the rivers edge and it is a traffic free environment.
Emboldened by the success of my first attempt it was time to get serious. I purchased some basic MTB shoes & pedals and set off on what turned out to be a much more challenging route than expected. Road cycling shoes are not built for walking let alone for traversing more difficult terrain. The advantage of heading off-road with MTB 'specific shoes (and clipless pedals to match) is being able to have a much better/solid footing when you need to get off the bike to negotiate obstacles or walk up steep hills because these should give you the tread and recessed cleat to provide grip. This is even more important in slippery conditions where a road shoe and the exposed cleats is akin to ice skating on rocks.
I found a local route that traced the old Pioneer Women's Trail (PWT) out of Beaumont to the top of Mt Osmond. Blimey. It turned out to be a combination of steep, rocky and slippery trails and was physically and mentally challenging. The journey was utterly exhausting and BRILLIANT. I was infatuated with the off-road/CX caper. Once I finally got to the top, I continued past Eagle on the Hill and headed toward Mt Lofty. Shortly after, I learned my first gravel grinder lesson. Pack TWO tubes. A double pinch flat on a downhill rocky section meant that I had to take the walk of shame and make a rescue call to get picked up.
As I was walking the bike back to the rendezvous point, I was already plotting how to change my commute to include some 'dirt adventure' on the way to work. I managed to work out a route that saw me take the bitumen to the Mt Osmond Golf Course, detour to the single track that ran alongside the road until the PWT took me right off the road. I followed the track and faced a myriad of surfaces, twists, turns, rocks, slippery clay, curious dogs and polite walkers. By the time I reached to the bottom, I felt mentally drained (more due to lack of skill than anything to do with the bikes capabilities), but the grin was a mile wide.
I understood why people were raving about the new Gravel/AllRoad riding experience. Over the next few weeks I continued to explore various local tracks, sometimes exceeding my capabilities – sensibly and strategically walking down some inclines or running out of legs and walking up some steep inclines. But each and every time, I was astounded at how much fun I had. At the same time they were some of the hardest rides I'd done, yet I hadn't travelled far at all.
Handling and Comfort
The longer wheelbase of the Granite 3.0 contributed to it's stable handling with more neutral steering, especially on twisty road descents as well as choppy fire trails. The wider tyres combined with lower pressures (60-70psi) for both the roads and trails soaked up the bumps well and partially masked the response of the stiff frame. The saddle had sufficient padding to be useful on the trails in absorbing the bumps, but also allowed good positioning for the rider when riding fast on the road.
Braking was the usual Shimano standard – the hydraulic discs performed well and despite some hard use on steep road & off-road descents, never showed any signs of distress.
The slightly higher stance (due to taller head-tube and axle-crown clearance on the fork) had me sitting more upright on the bike when compared to my dedicated road bike, but this didn't present any noticeable issues when riding on either surfaces.  Sitting more upright felt a bit unsettling when doing sharp turns downhill, but I became used to this sensation.
Steep and choppy descents while off-roading were challenging, but I attributed that more to my lack of experience than anything specific with the bike. The lack of any front suspension meant that some of those same slightly choppy and washed out trails gave me a much tougher a workout on my arms and some slightly nervous moments when descending, although this would be true of any CX bike and where practice pays off.
Another noticeable difference to my road bike were the RS505 Shifting levers. The shaping of them, apart from being visually different from the rest of the Shimano range, meant that some of the hand positions I normally used on the roadbike (e.g gripping the hoods with wrists resting along the base) are not available. On the plus side, the body of the levers were slightly wider, providing a broader platform for the palms when wrapping the hands around the body of the lever – useful to spread out the vibrations when off-road.
Pushing the limits
I felt that I chose some uphill and downhill offroad routes that were not only close to my abilities, but also close to the limits of the bike. Whilst the Granite could still navigate the tracks, there were rocky outcrops and difficult surfaces where suspension, lower gearing (for steep rises), slower steering and larger tyres are more suitable. This is where a dedicated mountain bike is not only is better suited, but where it will also fill in more gaps for riders less 'technical' cyclists.
Riding through the Belair National Park, the smoother fire trails are more easily traversed with the Granite. Essentially you are looking for the type of fire trail that your surburben 4WD can tackle, but not the type of inaccessible Australian firetrail best left to a 1970's Series 3 Land Rover. Smooth fire trails and single tracks, Yes. Technical firetrails and singletrack… challenging!
With my road cycling heritage, I don't shy away from the drop bars but off-road it was a different story. Most off road riding (trails and single track) were done with the hands wrapped around the body of the levers, and braking done with 2 fingers.  Only the steeper descents with lots of braking (to really control the speed) were done in the drops, but that was more for braking control than positioning.
Another type of limit is is weather adaptability. Whilst I am not a dedicated winter commuter, I appreciate a decent full mudguard when caught in the rain.  This means full fenders front and rear, such as SKS Bluemels, are a must.  The missing mounts to allow these types of guards to be fitted on the front are a surprising omission. If this was just a CycloCross bike… ok. As a Gravel Bike mudguards are debatable. As a commuter, mudguards are a must and this All-Rounder makes it harder than it should be.
Cheap or Affordable?
A cheap bike is a combination of cheap components that is put together to resemble a bicycle shaped object (BSO) to achieve a given price point to and maximise profit. These bikes are usually characterised by little known brands, outdated components and don't function well. Go to Kmart, Target and Big W and you will see these in the flesh. The Reid Granite 3.0 does NOT belong to this category.
I began researching to identify alternatives which were similar in spec and/or price to create an objective comparison to the Granite 3.0.  The following table below shows just some of the alternatives. You may get deals that undercut the recommended retail prices listed but Reid Granite 3.0 has an edge over its competitors.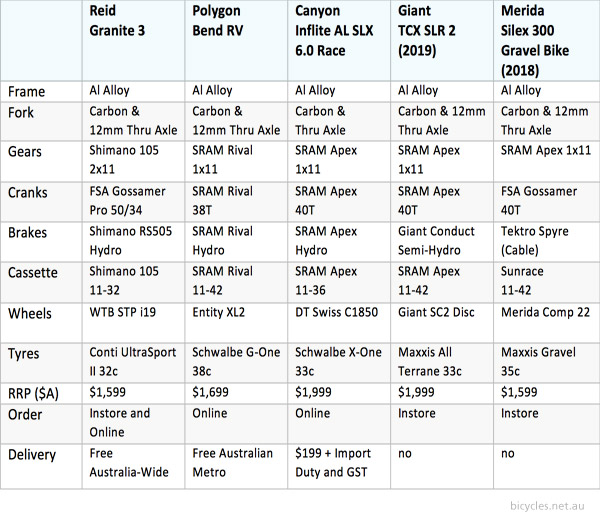 Reid does not have the same brand recognition and 'brand value' as the likes of Canyon or Giant, but to outscore the Reid in componentry, you'll be spending $500 or more. The Merida Silex 300 matches the Reid Granite in retail pricing and has some comparable components such as the cranks and fork, but also some that are at a lower level. It uses cable-pull disc brakes which are no match for the Shimano RS505 Hydraulic disc brakes. The Merida is also only available instore (or with instore pickup required).
It is worth noting that the Granite has the Shimano 105 groupset with a front derailleur for the (2x) two chain rings up front while all of the other models are (1x) with a single chain ring and no front shifting. The 1x single chainring is fairly popular and a easier for maintenance but it also limits your gear range. In the table you may have also noticed that the Granite uses Shimano gearing while the others use SRAM, both are good brands and typically the Shimano 105 is comparable with SRAM Rival (on the Polygon) while SRAM Apex is a level below in the heirarchy.
The Reid Granite with the 2x gives you a gear ratio ranging from 1.06 (34 ring/ 32 cog) to 4.55 (50 ring/ 11 cog). The Polygon gives you slightly more in the granny gear (easiest gear) going uphill with a gear ratio of 0.90 but none of the bikes deliver a 'heavy' gear ratio higher than 3.64. What this means is that if you are cycling fast downhill in commuter or road cycling mode, you will get a much higher top speed on the Granite which really helps solidify it as an all-rounder.
There are some small, but key inclusions on the Reid Granite 3.0 that underline the 'quality vs price' focus in this bike. It is fitted with quality tyres (Continental UltraSport tyres) and tubes along with a full Shimano groupset, except for the FSA crank, but even this is the higher spec Gossamer Pro level.  The disc rotors used are also Shimano (RT-66 level) rather than a cheaper substitute.
There is are some neat features included on the frame for example a small metal protector on the inside of the left fork leg to prevent the disc damaging the fork then installing/removing the wheel. I can't say I have ever experienced this type of damage on any of my road bikes or mountain bikes with disc brakes but you never know… and prevention is always better.
The gear cables (but not brake cables) are routed internally into the downtube via neat inserts which just keeps a lot of cables out of harms way while making the bike look smarter. And like all of the other comparable bikes, it has a carbon fiber fork which is a proven way to increase comfort as it soaks up more bumps and vibration compared with a rigid fork.
Reid Cycles are doing a lot of things right but the cable routing isn't perfect.  The front derailleur cable housing exits under the BB, along with the rear hydraulic hose that is externally routed on the downtube (a nod to road cycling) but this negates the benefits of internal routed cables in that particular spot. I didn't experience issues even though I tried to push the bike to its' gravel grinding limits.
The hydraulic hoses, particularly the front were too long and subsequently rubbed the frame and left a mark. Even at this price point I would expect that the cable lengths are trimmed to length for a neater cockpit. As a backup, a couple of well placed cable clips would have also solved this.
What makes a Reid Granite 3.0 a good buy?
Reid  have always operated in the 'value for money' segment, the Granite is one of their higher priced bikes but still embodies the same approach. On spec' alone it is a clear winner and I feel that the bike quality and ride quality have also delivered.
A plus point of Reid Cycles is that they sell both online and through their bike stores so you get the best of both worlds. If you are confident and just want to click and buy… then it's simple. But if you want to chat to staff, have a test ride and make absolutely sure that the size is right, then you can go to shops in Melbourne, Adelaide, Sydney and Perth. Even if you buy online, knowing that you can go to a physical bike shop if you need to is a big bonus.
For me, it's a good buy as it's a combination of sensible components that meets the expectations (as  advertised) with a more than agreeable price, especially when it's a multi-role machine.
Something Good or just Different ?
This is a bike that almost does away with the 'n+1' mantra. Believe me, it will never genuinely stop me from buying a new bike… but the Granite is a versatile bike that can tackle different cycling environments.
It's more than capable dedicated commuter. It's a sharply priced gravel, CX, all-road exploration machine that gives you more options under the one roof.
I have used it many ways from tradition road cycling and commuting through to the more subtle gravel grinding, cyclocross and all-round roadie and thoroughly enjoyed myself. It let me explore new riding routes and raise the bar.
Even though I already own n+1 bikes, the Granite still opens new possibilities for me. This makes it all the more attractive to the new bike buyer who wants a faster and racier commuter bike but with built-in capabilities of hitting a few unsealed roads and trails on the weekend. For $1,600 it is an impressive package.
Do yourself a favour, forget being a brand snob and at least have a good look at this one as you may be pleasantly surprised.
Written by Michael Bachman
Details and Retailer: Reid Cycles