A bicycle is just like any other machine - you need to look after it if you want it to run properly!

Reid Cycles offers a full range of workshop services to help you keep your bike healthy and safe. Our mechanics love bikes, so pop in and we'll be happy to provide a quote for Workshop Services including any upgrades and customisations.

Just visit the store if you need a quick puncture repair or brake pad replacement (no need to book for these small tasks). If you need a service though we will require a booking.
Bronze
$79.99
Silver
$149.99
Gold
$249.99
M' safety check and diagnosis
Parts needed discussed with customer
Basic clean
All bolts checked and tightened
Brakes tuned (pad and cable adjustments)
Gears tuned - adjusted where needed
Lubricate chain and cables
Spoke tensions checked, tyres inflated to correct PSI
Headset inspected and adjusted
Full drivetrain degrease and clean
Wheels trued and spokes tensioned
Wheel hubs checked and adjusted
Bottom bracket inspected and adjusted
New gear and brake cables fitted (Inner & Outer)*
Brakes bleed (if required)
Headset, bottom bracket and hubs greased
Bike deep cleaned and polished
Suspension checked (if required)
*Mechanical cables only - does not include Di2, eTap or hydraulic brake hoses
Free First Service
Don't forget that Reid Cycles offers all our new bike customers a free service within the first 6 months of ownership. This free service is for the original owner of the bike only and can be performed at any Reid store.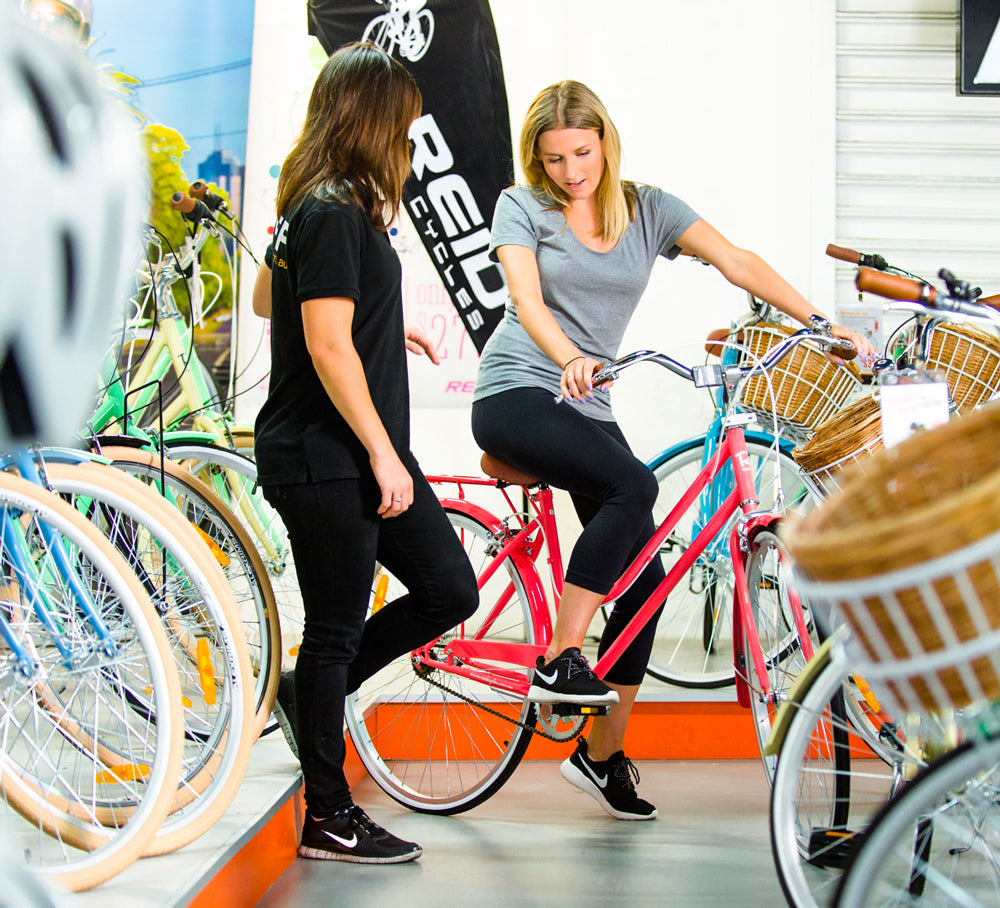 Service Plans
All our bikes include one free workshop service within 6 months of purchase. To keep your new bike running at its BEST, we recommend the purchase of a SERVICE PLAN to get up to an extra 3 years of professional Reid care at an unbeatable price!

This offer is only available at the time of purchasing the bike and only available to the original purchaser of the plan.
Shop Service Plans
Bike Servicing FAQ
Q. When should I get my bike serviced?
As a rule of thumb, Reid recommends you get your new bike serviced after the first 6 weeks of riding for adjustments as parts bed in. Following this, it makes sense to at least get a service pre-Summer and pre-Winter. This schedule varies based on how much riding you do and what preventative maintenance you do yourself.

Q. Which Reid stores offer workshop servicing?
All our stores have a Workshop and trained mechanics to help with all your bike servicing needs. Just make sure you contact the store in advance to book in.

Q. Do you offer one off/individual servicing?
Yes we do! Click here for a comprehensive list of all individual Workshop Services offered at Reid Cycles.
Q. Do you service bikes other than Reid?
Yes, we do. Our mechanics are trained and ready to service a wide range of bikes from all manufacturers. Be aware that you may need to have your eBike serviced by the place you purchased it from as often specialist tools and training is required. We can service eBike components from Shimano, Bafang and Ananda.

Q. I have bought a bike online and I want you to build it - can I bring it to the store for assembly?
Have you watched the video guides yet? We have put together a series of easy to follow step-by-step videos to show you how to assemble any of our bikes.

If you lack the tools or still do not feel confident of assembling your new bike to a safe standard, we recommend that you contact our trained mechanics to perform the task.

Our stores charge a discounted assembly fee of $40.00 for anyone who has purchased a bike from us online and lives close enough to access our retail stores. You will need to book in advance with the store of your choice. Click here for store locations.

Of course, if you have not yet ordered your bike, you can choose the Click & Collect option to have the bike assembled in store for collection at no extra charge. The reason there is no charge for the assembly of Click & Collect orders is that in this case, we have not paid to subsidise the freight costs as we do for every delivery.